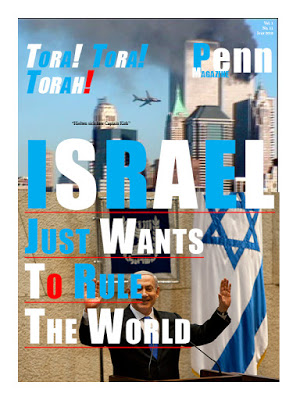 ​
PENN MAGAZINE
Also here in flip-page format:
If you sleep with dogs, you get up with fleas.
Somebody said that. I think, somebody Jewish.
But how can you tell?
I'm from Norfolk,
Nebraska. Not to brag, just fact. Home of Johnny
Carson and Jim Casey, Clete Blakeman the NFL head linesman, The
Lewchuck Boys, and
Dorothy Korn and Bob The Dog ….
I'm not sure if anyone in Norfolk ever was Jewish or is now … I don't think Carson became Jewish until he left for California. … well perhaps Maybe-Jewish … because we only talk about Nebraska fooåtball and worms, nightcrawlers, giants, no place to fish, no lakes, but some big-ass worms. … at least it was that way in the '70s. By now perhaps things have changed.
Maybe Norfolk has undergone an Enlightenment and there is more to talk about. I haven't heard.
Anywho, we're talking about Jews here.
When I think of Jews which I do all the fucking time not really, I think of … well, I don't, maybe a little, maybe I think of New York and a neighborhood like on Sesame Street and then I go back to thinking about Nebraska football and the size of these god-damn worms …
But, let's just say it's the off-season or we have a really shitty team and you do for some reason, while you are sitting by the river, your toes in the broken glass and mud, with a handful of worms … you start thinking about Jews … you probably think about long noses, well … hey, you just do, we are from Norfolk and there is nobody here that is black or Asian or Mexican and it is easy to make fun of people if they are not right in front of you to punch you in your runny-ass nose … and people who are smart and funny, and rich … and look here what I found, all this cool and funny shit brought to us by The Jews:
A bird that you set free may be caught again, but a word that escapes your lips will not return. [I don't get it. I just don't.]
A mother understands what a child does not say. [???]
A pessimist, confronted with two bad choices, chooses both.
As he thinks in his heart, so he is. [I know, right?.]
As you teach, you learn.
Do not be wise in words – be wise in deeds.
[alleluia]
Don't be sweet, lest you be eaten up; don't be bitter, lest you be spewed out. [???]
Don't look for more honor than your learning merits.
First mend yourself, and then mend others.
He that can't endure the bad, will not live to see the good.
If charity cost nothing, the world would be full of philanthropists.
If not for fear, sin would be sweet. [???]
Make sure to be in with your equals if you're going to fall out with your superiors. [praise the lord]
Not to have felt pain is not to have been human.
What you don't see with your eyes, don't invent with your mouth. [WTF?]
"Anytime a person goes into a delicatessen and orders a pastrami on white bread, somewhere a Jew dies. — Milton Berle [I think I actually heard this joke in 1965 on the Carson show. I do remember I was wearing reindeer Christmas pajamas with a Jethro bowl of strawberry swirl perched precariously in my lap.]
Jesus was a Jew, yes, but only on his mother's side.
— Archie Bunker
A car hit a Jewish man. The paramedic says, "Are you comfortable?" The man says, "I make a good living. [Carson show material for absolute certain]
bubbe – Grandmother, other similar words are bobe or bobeshi
chutzpah – extreme arrogance or nerve, another similar word is khutspe
glitch – a slip or nosedive
kibbitz – to chat or joke around
kibbutz – a collective farm
klutz – a block of wood; a clumsy of dumb person; another word is klots
kosher – food or other things that is acceptable to Orthodox Jews
kvetsh – to press or squeeze; complain
Mazel Tov – good luck; congratulations; another word is mazltof
mishegas – craziness; insanity
oy vey – means dismay or grief; "oy vey iz mir" means "Oh, woe is me."
plotz – to explode, extreme aggravation; another word is plats
shalom – deep peace; a greeting
shlep – to drag; unwillingly carry something
shtick – gimmick; something you do, like a routine on stage
spiel – very long sales pitch
shiksa – implies that a non-Jewish woman's main traits are her good looks and youth
shagetz – a non-Jewish boy who is unruly or bad natured
tuches – your bottom; your rear end; other words are tuchis, tuches or tokhis
yente – a gossip; a busybody
Somebody, who was Jewish, one of those guys in the black and white uniforms, in Iowa, who lived in house with a bunch other guys wearing black and white and black hats, who were employed by the packing plant at the end of the block, making sure things were kosher, I presume — once said my last name was Jewish.
Hmm. I hadn't heard that before and have not since.
Who knew? "My people" on my father's side came from Czechoslovakia.
They were getting away from something, I never heard …. My father,
Milosh, was the first one born over here. I was sometimes called a "Bohunk" by older people, never knew what it meant, never really cared.
Anyway, does not matter.
Well, some say the Holocaust happened as we have been told, some say it was different.
The part that I don't get is that we can't talk about it.
And to even ask questions means we are being something called anti-Semitic, a Holocaust Denier, a Barbara Streisand-phobe.
That seems, I don't know … weird to me.
Maybe the Israelis are using it for leverage to get sympathy to develop a plan to get the United States to fight its wars and defeat its enemies, meanwhile getting billions and billions of dollars from the United States to develop its own infrastructure and military and build itself into a world power.
Maybe Israel used whatever means it has to plan 9/11 with others, pull it off, cover it up because it owns all the media in the United States, all the politicians, lots of the major corporations, in order to have us destroy Iraq, Afghanistan, Libya, Syria, Iran, because they can't do it themselves, not yet.
Just saying …
Is that a possibility?
If it's not, then prove it. Lets understand that and lets move on.
If it is true … well then.
All is not butter that comes from a cow.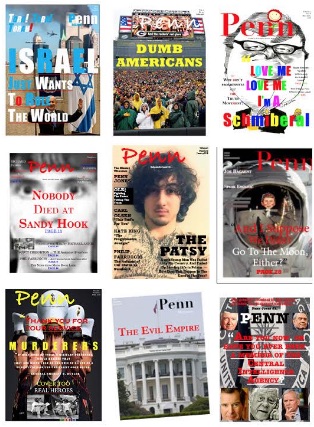 ​
​Penn Magazine is named in honor of Penn Jones Jr., one of the first honest researchers into the John Kennedy murder by the U.S. deep state, which was the opening big event, leading to the murders of Martin King and Robert Kennedy, Oklahoma City, 9/11, Sandy Hook, Boston, San Bernardino, Orlando, Las Vegas, Parkland, Sante Fe High School, etc. etc.
Please follow and like us: