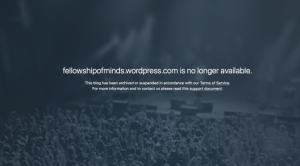 WORDPRESS/AUTOMATTIC SHUTS DOWN FELLOWSHIPOFTHEMINDS
By James F. Tracy
In the latest action suppressing online political speech the always informative and entertaining FellowshipoftheMinds blog (FOTM) has not just just been censored, but entirely removed from the internet.
Automatic, the San Francisco-based online behemoth that operates WordPress.com and provides services to virtually thousands of bloggers worldwide, took the action against FOTM's owner and editor without warning earlier today.
In December 2016 both
Bluehost
and WordPress.com/Automattic chose to discontinue service to MemoryHoleBlog, providing virtually no explanation for the cessation, other than to state that MHB was in violation of Automattic's "Terms of Service"–a nebulous reason such platforms pull out when they want to avoid controversy by showing a blogger the door.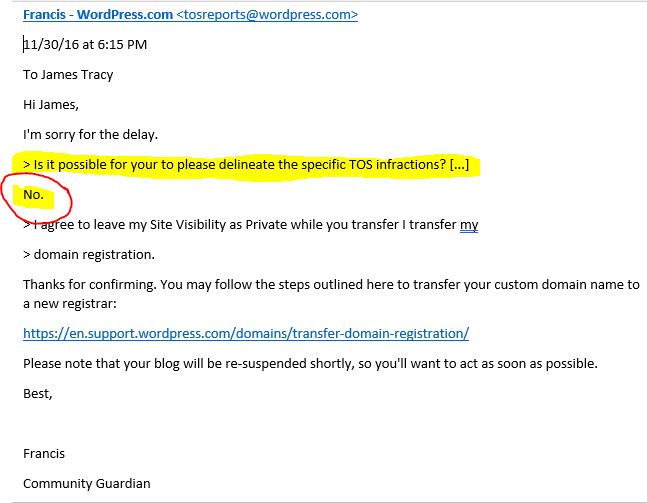 At that time WordPress gave the MHB editor a roughly ten-day window to find another host.
No such courtesy was afforded Dr. Eowyn, the retired social science professor who has operated FOTM since 2009.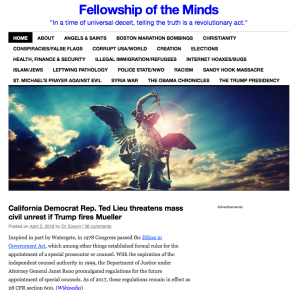 Readers of MHB are aware of the brilliant research and evidence published at FOTM calling into question the veracity of the December 2012, Sandy Hook massacre, the Boston Marathon bombings, and probable government involvement in numerous other curious tragic events likely used to sway public opinion behind certain agendas including gun control and the growing police state.
As Eowyn
argues
in the statement below, politically conservative news and opinion outlets are being silenced by forces hostile to President Donald Trump in the lead-up to the 2018 midterm elections.
What I had feared and expected finally happened.
Minutes ago upon waking up this morning, I discovered that WordPress has unilaterally and without warning shut down
Fellowship of the Minds
for alleged violations of "Terms of Service".

I have sent a request to WordPress asking them to account for just what "Terms of Service"
FOTM
is found to have violated. In my request, I reminded the owner, administrators and staff of WordPress that WP's information censorship against a conservative blog, once undertaken, can and will be used against
them
in the future.
The signs are now clear that the Left are silencing all conservative voices before the November mid-term elections where Democrats will steal the election with MASSIVE voter fraud.
I will explore finding another server for
FOTM
. In the meantime, I am using this
other WordPress blog
I have (but never used), as the interim
Fellowship of the Minds
.
Please pray for America.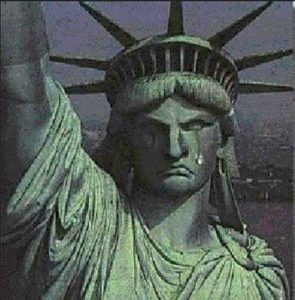 In sorrow,
Dr. Eowyn
Automattic's move to censor FOTM comes one week after tech giants Google, Apple, Facebook and Twitter removed material by broadcaster Alex Jones. The week prior popular YouTube commentary channel SGT Report was also banished without explanation. With this action Automattic appears to be similarly joining forces with these entities.
As the
New York Times
reports
today, a campaign waged by the shadowy
"Lenny Pozner" persona
likely contributed to Automattic's full evisceration of FOTM. In the past Automattic stood behind its clients on free speech and "Fair Use" grounds when questionable copyright infringement claims were brought against sites.
"Online platforms are not held liable for copyright infringement claims against people who use their platforms as long as they remove or block access to content in response to the claims," the
Time
s notes.
This is crucial to the function of any website where people can post content, and internet companies have traditionally tended to err on the side of removal, even when claims may be dubious. This has created opportunities for abuse, and Automattic has made fighting that a corporate cause.

The company created a

"Hall of Shame"

to call out businesses and people filing notices for frivolous reasons or to tamp down negative news coverage.

For years, Automattic's strident response to copyright abuse

earned praise

from digital rights advocates. Now, this approach has effectively lumped in Mr. Pozner with the abusers. "Strictly from a copyright perspective, WordPress.com's response is outside the norm," said Tom Rubin, a lecturer at Stanford Law School who oversaw Microsoft's copyright group and takedown process for 15 years.

"They avoid getting involved because fair-use determinations are notoriously complex and fact specific," Mr. Rubin said of online platforms. "Platforms would rather eliminate their own potential liability by taking the content down and leaving it to the parties to battle amongst themselves in court."

Matt Mullenweg, the chief executive of Automattic, suggested in a recent interview

with Recode

that the company was confronting misinformation. "For things that we host and run and provide our kind of company backing to, implicitly through hosting it,

we do avoid hate speech

," he said. He added that "egregiously fake or harmful things —

we're pretty good at getting off the system

." (Emphases added.)

In the case of Mr. Pozner, however, Automattic suggested that its approach was imperfect. "While our policies have many benefits to free expression for those who use our platform, our system like many others that operate at large scale, is not ideal for getting to the deeper context of a given request," the company said in a statement.
As with Automattic's treatment of MHB, FOTM's disappearance strongly suggests how WordPress.com's policies are being tailored to placate outside parties whose foremost interest is in stifling political speech on potential high crimes, and how in this instance such poorly-founded grounds for censorship have triumphed over free speech.
Automattic's full-scale censorship of FOTM also directly coincides with publication of the August 14 article excerpted from above–a story whose cunning slant is fully in the spirit of the Democratic Party's communist-like zeal for censoring the opposition, in addition to Dems and Obama administration's gun control ethos at the forefront of the Sandy Hook event itself.
Eowyn is presently attempting to relaunch FOTM with another service provider. We will provide additional information on this effort here at MHB as it develops.
See also:
Please follow and like us: