JAMES FETZER · Post
Mona Alexis Pressley: In Solidarity with Alex Jones — Dead Principal interviewed by The Newtown Bee
Posting as Jim Fetzer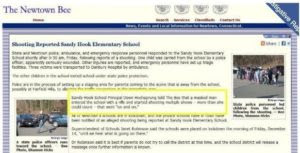 Dear Mr. President,
Among the most intriguing aspects of the elaborate hoax known as "Sandy Hook" was an interview that appeared in The Newtown Bee (14 December 2012), with the principal, Dawn Hochsprung, discussing the shooting. What makes this interview dumbfounding in retrospect is that, according to the official story, the principal was among the first to be shot and was already dead. As Insanemedia.com reported: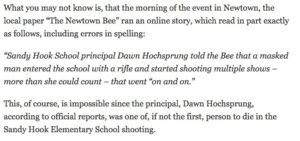 The Bee published a retraction three days later, as "Sandy Hook Evidence: Dawn Hochsprung Interview" (10 January 2013), observes, alleging that a woman who had identified herself as the school principal had called their reporter, but that she could not have been Dawn Hochsprung, who was killed in the Friday morning attack". The Bee apologized for the confusion and to the Hochsprung family for its error.
The very idea that someone would impersonate the principal with such a call or that their reporter would not have known with whom they were speaking in a community of only 27,000 residents were not addressed. The Sandy Hook story is littered with anomalies that reveal it was a completely staged event, including an interview with a dead woman. No one familiar with the evidence should be in doubt.
Very respectfully,
Mona Alexis Pressley
Reference: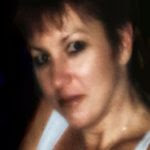 Mona Alexis Pressly, MA, MFT has frequently appeared on "The Raw Deal" and "The Power Hour". Her research on numerous political issues, including Obama's birth certificate, Sandy Hook, and Las Vegas, has been published by Dr. James Fetzer, 
PENN Magazine
, and other venues.
See Especially:
See Also:
Post settings
Labels
Published on
8/29/18, 9:53 AM
Pacific Daylight Time
Permalink
Location
Options
Please follow and like us: