June 25, 2018; Updated July 8, 2019
The 2018 political thriller, The President Is Missing, co-written by James Patterson and former President Bill Clinton, debuted at #1 on the New York Times best-seller list for fiction in both the print/hardcover and e-book categories. Reviewed in the New York Times Book Review section for June 24, 2018, the novel was touted as "ambitious and wildly readable," a story of "a president who ditches his handlers and goes rogue from the White House, convinced he is the only one who can foil a huge cyberterror plot."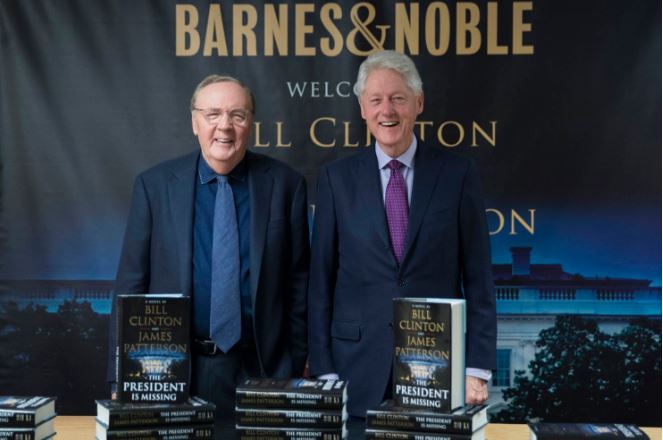 Co-authors James Patterson and Bill Clinton promoting The President Is Missing, June 2018. Image: Associated Press.
While the book "unspools smoothly," it reportedly gets a bit bogged down at the end, with "a few too many unsubtle messages about the current state of our politics." Nonetheless, the reviewer admires the novel, in its realistic depiction of "the selfless and often nameless people who work in government" who are willing even to lose their lives "because they are compelled to serve their nation," in its exploration of the thin line between loyalty/duty and resentment/temptation, and in its shining of "a spotlight on the deep commitment of America's adversaries to tear us apart and weaken our standing in the world."
Touted as an "Instant #1 New York Times Bestseller," the book immediately had almost 700 amazon reviews, and now it has nearly 6,500, although it does not top the list when the title is searched at the site. According to amazon, James Patterson "holds the Guinness World Record for the most #1 New York Times bestsellers, and his books have sold more than 375 million copies worldwide." He had reportedly written 202 books by the time of this publication, and he has contributed to many philanthropic causes, receiving the National Book Foundation's 2015 Literarian Award for Outstanding Service to the American Literary Community.
Were you wondering about this instant bestseller that seemingly appeared out of nowhere to take the reading world by storm? Not mere happenstance, the book resulted from a political deal between pseudo-author James Patterson (who writes 202 books?) and ageing lothario Bill Clinton, in the service of big bucks and Hillary's 2016 bid for the presidency. The President Is Missing is tribute to the selfless and often nameless people who work in the publishing industry, compelled to serve the interests of the media stars who bring in the profits. [1]
Patterson not only writes novels, but also non-fiction, such as his 2016 book, Filthy Rich, another New York Times bestseller – "the shocking true story of Jeffrey Epstein," the billionaire socialite, sometime scientist, and registered sex offender. Although Patterson gets author's credit, he collaborated with investigative reporters Connolly and Tim Malloy, who were responsible for much of the research and writing.
Until recently, Epstein has flown mostly below the radar (and I do mean flown), coming into view from time to time and exposed, partly, by Patterson's semi-pornographic bio. Filthy Rich details the downfall of Epstein, relatively speaking, who was arrested after a complaint in 2005 and incarcerated in 2008, serving 13 months of an 18-month sentence. With his arrest in New Jersey on July 6, 2019, Epstein is in the spotlight once again.
Jeffrey Epstein – Filthy Rich
Born in Brooklyn, Epstein is a reported billionaire and major donor to the Democratic Party, with residences in Palm Beach, New York City ("reputedly the largest private residence in Manhattan"), New Mexico, Paris, and the island of Little Saint James in the U.S. Virgin Islands, which he owns. Although Epstein worked on Wall Street, eventually founding his own financial management firm, no one has quite been able to explain the source of his purported vast wealth. [2] This funded a lavish lifestyle and allowed him to dole out piles of C-notes to underage girls solicited to give him erotic "massages," as detailed in graphic fashion by Patterson in Filthy Rich.
Sexual encounters occurred at Epstein's residences and on his Boeing 727, dubbed the "Lolita Express," which was outfitted with a bed for "orgies" with his guests and groups of young girls. Flight logs released in 2015-2016 list such luminaries as Kevin Spacey, Chris Tucker, Naomi Campbell, Woody Allen, Alan Dershowitz, and Bill Clinton. The ex-president took 26 trips on the Lolita Express, notably an excursion to Africa in 2002 to tour AIDS projects, and Epstein credits himself as "part of the original group that conceived the Clinton Global Initiative." Yet Patterson's Filthy Rich has little to say about Clinton, summing up the relationship as follows:
"Bill Clinton got the use of a jet out of Epstein – a trip to Africa. But he andEpstein weren't bosom buddies." [3]
Although Clinton was an obvious star of the show, and his role should have been investigated, The President Is Missing from Patterson's 2016 book about Epstein.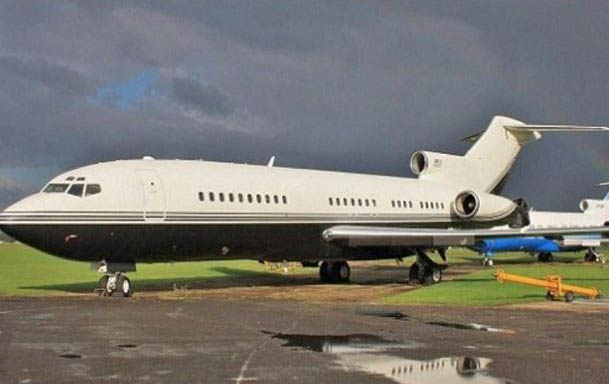 Epstein's "Lolita Express." Image: John Coates, airport-data.com.
Epstein's pals include heads of state, entrepreneurs, academics and research scientists, celebrities, and numerous beautiful women, notably Ghislaine Maxwell, daughter of media mogul Robert Maxwell (né Ján Ludvík Hyman Binyamin Hoch). Robert Maxwell, head of the Mirror Group Newspapers, was alleged to be a Mossad agent by Seymour Hersh in his 1991 book on Israel's nuclear program, The Samson Option. Maxwell denied the charge and sued Hersh for libel, but he died in November 1991, and the suit died with him. Hersh countersued and eventually received an apology and a settlement.[4]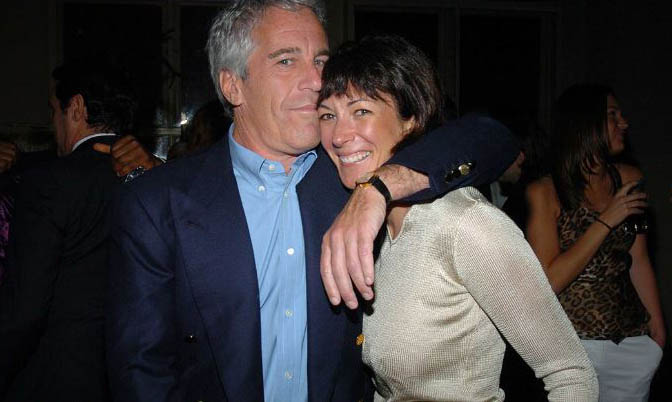 Jeffrey Epstein and Ghislaine Maxwell. Image: POLITICO.
This has led to the speculation that Ghislaine Maxwell has Mossad connections as well. She was instrumental in procuring young girls for Epstein, in a constant supply for his use, her own use, and for loans to others. According to the testimony of several of the girls involved, they not only serviced Epstein and Maxwell but also their associates, including Prince Andrew, Alan Dershowitz, and other powerful players. The girls were asked to bring back reports on their liaisons, which were sometimes filmed with hidden cameras. [5] These look like high-end blackmail operations, with Epstein and Maxwell skimming sex off the top for their own sick pleasure. [6]
Virginia Roberts, now married and using the name Virginia Giuffre, filed an affidavit in 2015 claiming that Ghislaine Maxwell recruited her in 1999 at age 15 while she had a summer job at Mar-a-Lago. Giuffre says she spent four years as Epstein's "sex slave" and was also pimped out to Prince Andrew and Dershowitz (although both have strenuously denied the charges). Giuffre claims that she never slept with Bill Clinton but met him twice at Little Saint James, and was sure "Bill must have known about Jeffrey's girls." At the very least, Clinton knew what Epstein was up to. [7]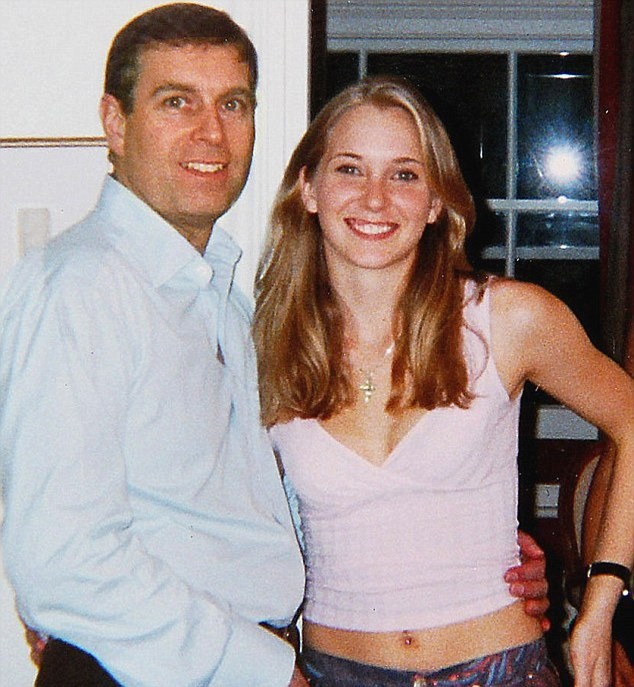 Prince Andrew and Virginia Roberts in 2001. Image: Daily Mail.
Justice Not Served
Things started to slide in 2005, when the parent of a 14-year-old contacted the Palm Beach Police, saying she believed her stepdaughter had been molested by a wealthy man. The girl had shown up at school with $300 in her purse, and soon she was describing Epstein's mansion at 358 El Brillo Way and the "massage" she had given him. Palm Beach detectives began to investigate and turned up more girls involved both as participants and solicitors. The girls were interviewed, and a search of the premises netted "sex toys," erotic art, and nude photos of underage victims, as well as secret cameras.
Police Chief Michael Reiter and Detectives Joseph Recarey and Michael Dawson began to build a case, culminating in Recarey's probable-cause affidavit in 2006. This found sufficient cause to charge Epstein with four counts of unlawful sexual activity with a minor, as well as lewd and lascivious molestation, both second degree felonies. These would have put him behind bars for years if convicted. However, things changed when the case was handed off to Palm Beach state attorney Barry Krischer, who had a different plan for Epstein. Instead of having him arrested, he convened a grand jury.
The fix was clearly in, as the Palm Beach Police were not informed of the time and date of the grand jury meeting, and witnesses including the victims were not notified regarding their testimony. Recarey eventually learned that Krischer's office had made an offer to Epstein and his attorneys, Guy Fronstin and Alan Dershowitz. Despite all the evidence amassed, the offer was for one count of aggravated assault with intent to commit a felony, regarding only a single victim (although 47 were eventually identified), and a sentence of five years probation. This was due to the efforts of Dershowitz, who had proceeded to attack and smear the victims (Filthy Rich).
The many interesting details that followed cannot be recounted here (you can read Filthy Rich), but the outcome was a plea deal in 2007, an NPA ("non-prosecution agreement"). By this time, Epstein's legal team also included Ken Starr, Roy Black, and Jay Lefkowitz. The NPA allowed Epstein to plead guilty to two state felony charges, for solicitation of prostitution and procurement of minors for prostitution. He would register as a level 3 sex offender but not be prosecuted for felony offenses involving the sexual abuse of underage girls. The victims were allowed to sue him in civil court, but any potential co-conspirators were immune from prosecution. The deal was negotiated in part by R. Alexander Acosta, then United States Attorney in the Southern District of Florida, who is now Secretary of Labor in the Trump cabinet. It was kept secret from the victims until it had been signed by a judge and put into effect.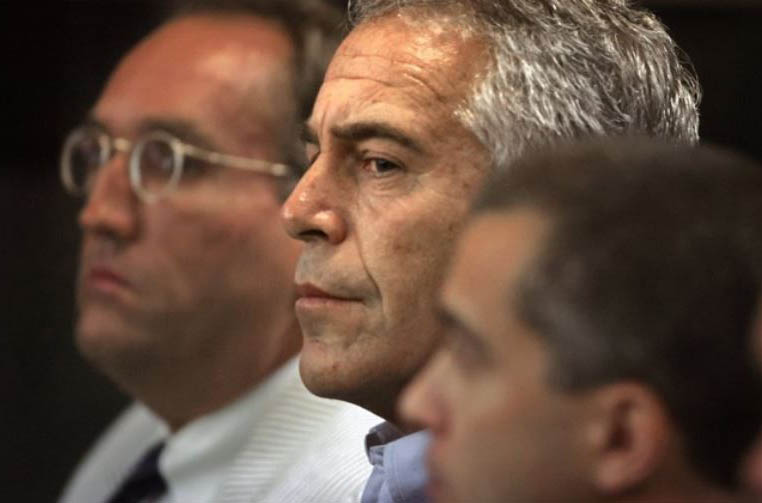 Jeffrey Epstein in court to enter guilty plea, June 2008. Image: Palm Beach Post.
In 2008, Epstein pleaded guilty to the charges proposed. He received a 30-month sentence, including 18 months of jail time (of which he served 13 months), with six days off per week for "work release" (requiring him to spend only his nights in jail), and 12 months of house arrest (but allowing him to fly to his various residences). In what has been termed "a slap on the wrist," he did his stint in the Palm Beach County Central Detention Center, not far from his home on El Brillo. Epstein enjoyed a single cell, in his own wing, with his own security guard, and unlimited visitors. According to the sheriff, "He was astonished that he had to go to prison at all." [8]
The Art of the Book Deal
None of Epstein's victims was consulted before the NPA was drafted, and this gave rise to a complex series of lawsuits, followed by numbers of settlements. In 2008, victims' rights attorney Bradley Edwards filed a suit citing the Crime Victims' Rights Act, stipulating that victims of federal crimes have the right to be heard in court and not be precluded from court proceedings. This has been winding through the courts, and new allegations have appeared, keeping Epstein on view as a person of interest. This caused a problem for some of his associates, including Prince Andrew, Alan Dershowitz, and Bill and Hillary Clinton.
By early 2015, Roger Stone, Ken Silverstein, and others began to ask whether the Epstein affair might drag in Bill Clinton, creating a liability for Hillary in her bid for the presidency in 2016. Enter James Patterson, who was working on Filthy Rich with his investigative reporters. By the end of 2015, detective John Connolly announced that he was ready to turn over his manuscript to Patterson, so that the book could appear before the 2016 election. Why the rush, unless Patterson was working with the Clintons to establish a narrative – a narrative in which The President Is Missing from the Epstein saga? In return, Patterson got a lucrative book deal with co-author Bill Clinton, elevating his literary status considerably (his 202 books notwithstanding). However, this move did not help Hillary achieve her objective.
News of Bill's 26 trips on the Lolita Express came out in May 2016, and in early November, just days before the election, highly-placed sources within the NYPD reported that both Bill and Hillary had frequented Little Saint James ("Orgy Island"), citing the contents of 's laptop. Forget James Comey and Hillary's email server… The evidence from Weiner's laptop, "enough evidence to put Hillary and her crew away for life," was likely responsible for Donald Trump's victory. [9] The details have not been released, although rumors abound on the internet, and photos have appeared allegedly showing tunnels and underground rooms on Little Saint James with disturbing images of children.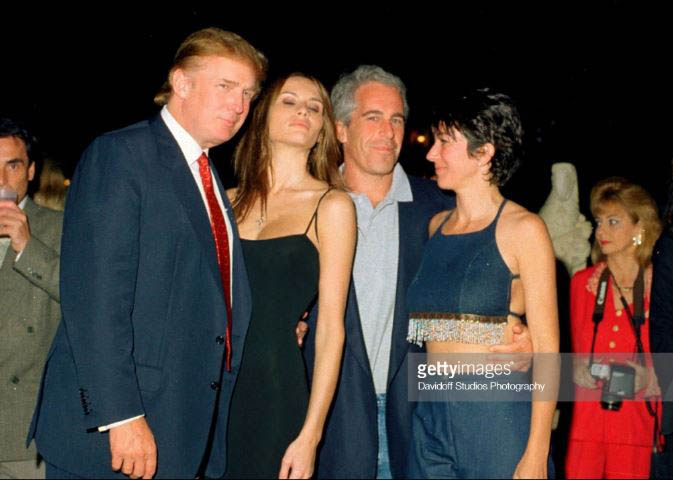 Donald Trump, Melania Knauss (the future Mrs. Trump), Jeffrey Epstein, and Ghislaine Maxwell at Mar-a-Lago, 2000. Image: Getty.
Not that Trump gets a pass. Although he is said to have barred Epstein from Mar-a-Lago over Ghislaine Maxwell's solicitation of young girls at his club, he was formerly an associate of the two and even an admirer of Epstein:
"I've known Jeff for fifteen years. Terrific guy. He's a lot of fun to be with. It is even said that he likes beautiful women as much as I do, and many of them are on the younger side. No doubt about it – Jeffrey enjoys his social life." [10]
A woman using the pseudonym Katie Johnson accused Trump and Epstein of raping her in 1994 when she was 13 years old, saying she realized only years later that one of her attackers was Donald Trump, after seeing him on "The Apprentice." She filed suit in April 2016, but the suit was dismissed due to filing errors (the address given was a foreclosed home that had been vacant since the death of the owner). The suit was filed a second time but dropped on November 4 just before the election; no supporting evidence has appeared, and the claims of Ms. Johnson have been deemed not credible. In a recent interview, attorney Bradley Edwards has said that he does not believe that Trump was involved "in anything untoward whatsoever."
In 2018, Epstein was again in the news. In April 2018, a fire allegedly broke out on Little Saint James. The lawsuit filed by Bradley Edwards against Epstein was scheduled to go to trial in March 2018 in Palm Beach County Circuit Court, but it was further delayed by an appeal from Epstein's attorneys. In May 2018, the FBI released nine groups of files on Epstein, many of which were heavily redacted. One of the memos includes the sentence, "Epstein has also provided information to the FBI as agreed upon." Some are speculating that the information he provided may explain the extreme leniency of his sentence.
Meanwhile, former Palm Beach detective Joseph Recarey died unexpectedly in May 2018, "after a brief illness," at age 50. Recarey, mentioned above, was one of the lead investigators in the case against Epstein. "No other information about the cause of death was released." The case was summarized in a Daily Beast article, and protesters disrupted a Patterson-Clinton book tour event and a Trump rally, voicing concerns over the Epstein connection.
The Downfall of Epstein?
The story has continued to unfold, with Epstein presumably pursuing his sybaritic lifestyle and his friends lying low – although things began to pick up in late 2018. The secret NPA was again brought to attention through a series of articles in the Miami Herald in late November, which pointed the finger at Alexander Acosta. [11] This seems to have been an effort to draw in Donald Trump, through his Secretary of Labor, although Acosta was clearly not the one calling the shots. The forces protecting and directing Epstein and his blackmail operation were surely behind the NPA, although "The Cowardly Secretary of Labor" was blamed by the mainstream media.
In February 2019, a Florida federal judge ruled that the prosecutors who brokered the NPA had broken the law by keeping the negotiations secret, in violation of the federal Crime Victims' Rights Act. Representative Debbie Wasserman Schultz, Florida Democrat, called the NPA "despicable," joining 18 other House Democrats in demanding Acosta's resignation. "The Trump administration needs to get him the heck out of there – this is the person we have enforcing the country's child labor laws."
In a related case, 167 court documents were ordered unsealed by a federal appeals court ruling on July 3, 2019. The court decision cited the public's right to access information about the case, outweighing the privacy concerns of certain individuals, "including numerous prominent American politicians, powerful business executives, foreign presidents, a well-known Prime Minister, and other world leaders," implying that that such persons were involved in Epstein's sex trafficking schemes.
With the world waiting for the release of these documents, Epstein was arrested on July 6, apprehended after his private jet touched down at Teterboro Airport in New Jersey, arriving from France. The new charges of sex trafficking and conspiracy were brought by the public corruption unit of the U.S. Attorney's Office in New York. According to U.S. Attorney Geoffrey Berman of New York, the NPA is binding only for the Southern District of Florida and not in New York. Epstein pleaded "not guilty" in court on July 8. He is being held at the Metropolitan Correctional Center in Manhattan, pending a bail hearing scheduled for July 15.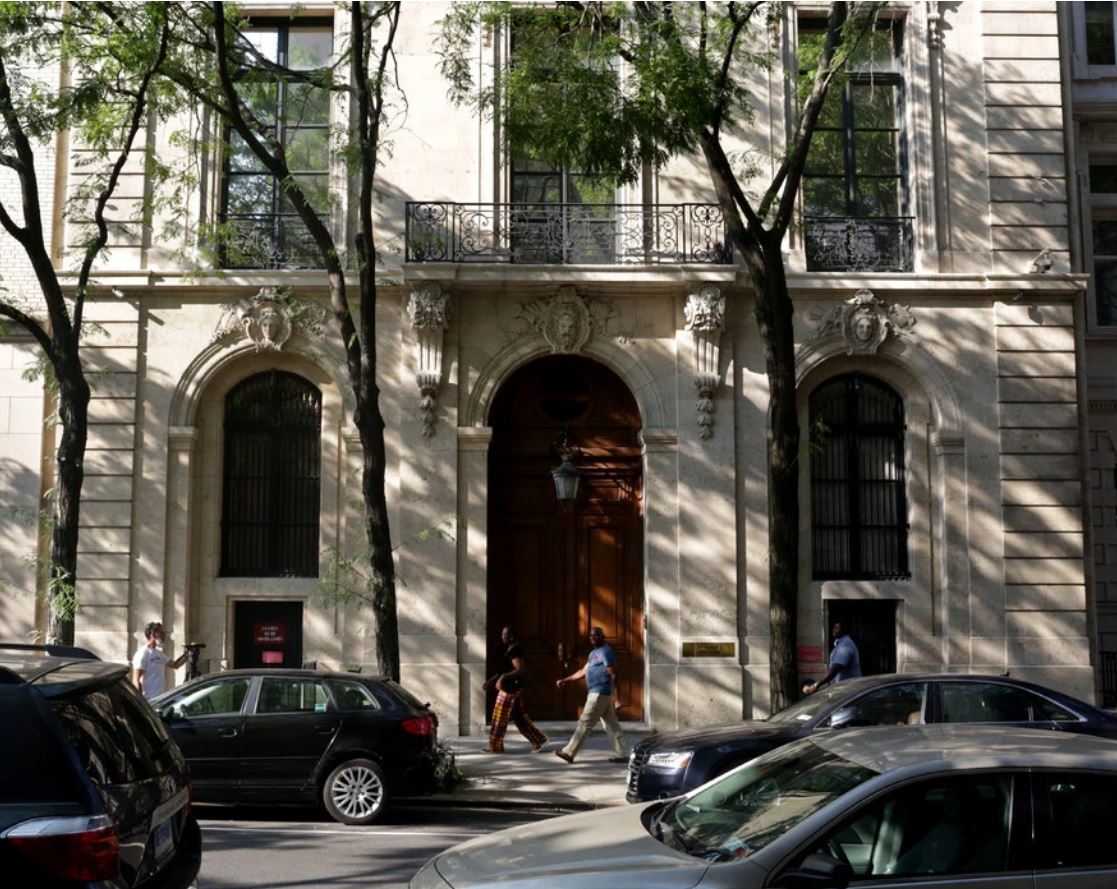 Jeffrey Epstein's townhouse at 9 East 71st Street in Manhattan.
Agents reportedly broke open the door of Epstein's Manhattan mansion with a crowbar and searched the premises, finding "nude photographs of what appeared to be underage girls." As Attorney Berman said of the victims, "They deserve their day in court." Considering the many influential players who risk exposure with the new charges, one wonders if justice will finally be served.
Vivian Lee is the nom de plume of a tenured professor at an east coast university.
Notes:
[1] According to a 2016 piece on Patterson in The New Yorker, "most often he farms out the word processing to co-authors, who receive detailed outlines and send back work that ranges in quality from vibrant schlock to hectic dreck."
[2] Vicky Ward, "The Talented Mr. Epstein," Vanity Fair, March 2003. https://www.vanityfair.com/news/2003/03/jeffrey-epstein-200303. Landon Thomas Jr., ": International Moneyman of Mystery," New York Magazine, October 28, 2002. http://nymag.com/nymetro/news/people/n_7912/
[3] James Patterson, et al., Filthy Rich, 270.
[4] Seymour Hersh, The Samson Option (New York: Random House, 1991), 312 ff. Hersh also asserted the charge at a news conference in London in October 1991 following the book's publication.
[5] Adam Withnall, "FBI Has Videos of Underage Sex with Epstein and 'Powerful friends' – Virginia Roberts Claims," Independent, February 9, 2015. https://www.independent.ie/world-news/europe/fbi-has-videos-of-underage-sex-with-epstein-and-powerful-friends-virginia-roberts-claims-30976109.html
[6] According to her 2015 affidavit, "Epstein required me to describe the sexual events that I had with these men presumably so that he could potentially blackmail them," Giuffre said, adding, "I am still very fearful of these men today." Virginia Roberts Affidavit, section 58, p. 13. https://www.scribd.com/doc/267173868/Virginia-Roberts-Affidavit
[7] "When I was with him, Epstein had sex with underage girls on a daily basis. His interest in this kind of sex was obvious to the people around him. The activities were so obvious and bold that anyone spending any significant time at one of Epstein's residences would have clearly been aware of what was going on." Virginia Roberts Affidavit, section 17, pp. 5-6. https://www.scribd.com/doc/267173868/Virginia-Roberts-Affidavit
[8] Patterson, et al., Filthy Rich, 82-85, 161-189, 199-200.
[9] Vivian Lee, "President Donald Trump: The Art of the Deal." Memory Hole Blog, November 10, 2016. http://memoryholeblog.org/2016/11/10/president-donald-trump-the-art-of-the-deal/
[10] Landon Thomas Jr., ": International Moneyman of Mystery," New York Magazine, October 28, 2002. http://nymag.com/nymetro/news/people/n_7912/
[11] Julie K. Brown, "How a Future Trump Cabinet Member Gave a Serial Sex Abuser the Deal of a Lifetime." https://www.miamiherald.com/news/local/article220097825.html. "Cops Worked to Put Serial Sex Abuser in Prison. Prosecutors Worked to Cut Him a Break." https://www.miamiherald.com/news/local/article214210674.html. "Even from Jail, Sex Abuser Manipulated the System. His Victims Were Kept in the Dark." https://www.miamiherald.com/news/local/article219494920.html. "For Years, Abused Teen Girls, Police Say. A Timeline of His Case." https://www.miamiherald.com/news/local/article221404845.html
Please follow and like us: