[Editor's note: By sheer coincidence, during my presentation, "How to Spot a False Flag: Part 2", on my new show, "The Conspiracy Guy" (8-10 PM/CT), I discussed the Jusse Smollett, George Floyd and Bubba Wallace cases, where Jusse hired his personal trainer and an extra on the set to stage an attack, where the victim of the kneeling death appears to have been a 7-SIGMA medical dummy, and where the "noose" was a door-pull rope that could not have fit over a man's head. NASCAR, alas, is covering up by replacing the rope with a new one that looks more like something that could be mistaken for a noose: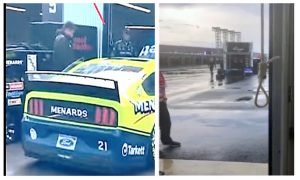 When the mainstream media publishes nothing but "fake news" and frequently cites phony statistics and pseudo-science, it is refreshing to have an academician–and a black scholar, to boot!–publish an expose of what's really going on, because virtually none of these "hate crimes" is real and the looting, rioting and unprecedented vandalism of statues and monuments has no warrant but appears to be part and parcel of an effort to destroy icons of our history and thereby our national identity.]
Jason L. Reilly reports for the Wall St. Journal, June 25, 2020, that Wilfred Reilly, an assistant professor of political science at Kentucky State University, compiled a database of 346 hate-crime allegations and determined that less than a third were genuine.
Reilly then put together a data set of more than 400 confirmed cases of fake hate-crime allegations that were reported to authorities between 2010 and 2017. He maintains that the exact number of false reports is probably unknowable, but that what can be said "with absolute confidence is that the actual number of hate crime hoaxes is indisputably large. We are not speaking here of just a few bad apples."
Reilly calls the Jussie Smollett case "the archetype of a hate crime hoax" and "one of the most flamboyant examples of the genre." According to Reilly, an openly gay black man residing in Chicago — one of the country's most liberal and diverse metropolises — is set upon by two white Donald Trump supporters who brandish bleach and a noose while shouting racial and antigay slurs "was a situation so extreme and bizarre that I think we would have had to look at how much racial progress the U.S. had actually made had it really occurred."
But, of course, Smollett had made it all up, including buying the rope for the noose himself, and paying two Nigerian brothers to pose as his attackers. Although the appointment of last week's appointment of a special prosecutor in Chicago to take up the Smollett case is a good sign, Reilly notes that media interest and coverage of the Smollett case has all but evaporated. He points out in his new book, Hate Crime Hoax, on about 100 fake hate-crimes, that the initial media publicity for supposed hate crimes tends all but to disappear if the allegations are exposed as fake. and that the media's relative lack of interest in exposing hoaxes that don't involve famous figures is a big part of the problem.
Reilly's interest in hate crimes dates to his graduate-school days, when he became aware of several widely reported incidents in the vicinity of his hometown, Chicago, that turned out to be fake. In 2012 a popular gay bar in suburban Chicago was destroyed by fire, and the owner cited homophobia as the reason. The same year, black students at the University of Wisconsin-Parkside reported death threats from hate groups and found a noose hanging from a dorm room door. Ultimately, the owner of the bar pleaded guilty to arson and insurance fraud, and a black student at the university fessed up to sending racist threats and planting the noose.
Reilly found that "This phenomenon of fake hate crimes did not appear to be small-scale or regionally based." Some examples:
Reilly's bigger concern is the politicization of hate crimes, especially where racial minorities are the supposed victims. Those alleged incidents are invariably seized upon by politicians and activists looking to feed a belief among liberals that discrimination and oppression are the main drivers of inequality. According to Reilly, "In the mainstream media we hear almost constant talk about scary new forms of racism: 'white privilege,' 'cultural appropriation,' and 'subtle bigotry," but "a huge percentage of the horrific hate crimes cited as evidence of contemporary bigotry are fakes."
Wall St. Journal doesn't identify Professor Wilfred Reilly as black, but his pic on a Kentucky State University website shows him to be one.
Dr. Wilfred Reilly is that rare academic who actually thinks for himself and is not a captive of the Left's pernicious group-think. His contact info.:
On Jussie Smollett, see:
On other fake hate-crimes:
~Eowyn
Drudge Report has gone to the dark side. Check out Whatfinger News, the Internet's conservative frontpage founded by a military veteran!
Please follow and like us: