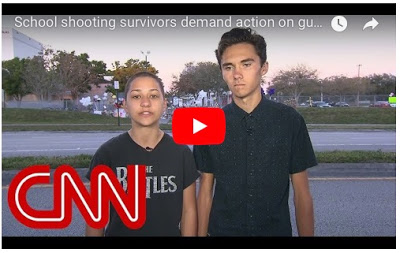 "

Two of those students

who [sic] you'll recognize join us now,

Emma Gonzalez

and David Hogg."
At the 2:35 mark, Gonzalez said:
"I do want to reiterate the FBI were some of the amazing first responders who were helping

us

get to safety."
In response to the anchor's question of whether they've been invited to President Trump's listening session with "students," Gonzalez said (3:03 mark):
"Um, I believe

we've

been invited but neither of us is going. We have a preset town hall meeting that we'll be attending."
At the 5:45 mark, the anchor asks:
"Hey guys,

are you gonna be able to go back to school

this week or next week? Are you going to go back into the building where this happened?"
With a deep sigh, Gonzalez says:
"Well, first of all, the freshmen building is being torn down. But the rest of the school is staying up and, as soon as we can,

we are going to go back into the school

, as soon as they say school is on Monday,

I'm going to be there

I'm pretty sure, unless I have interviews or somewhere to be, we are going to be at school with the people who need us.

We need to stand with our peers.

"
Emma Gonzalez is David Hogg's cousin.
Instead of being a high school student, Emma Gonzalez is a professional actress who had graduated from NYU.
The problem is Dan Cromer does not provide sources, embedded or otherwise, with which we can verify his explosive claims.
Below is my effort to independently verify Cromer's assertions.
(1) IS EMMA GONZALEZ THE COUSIN OF DAVID HOGG?
Robert L. Hogg's timeline has the births of three children:
Robert Hogg in March 1957.
Katherine Gonzalez in May 1965.
Kevin Ralph Hogg in February 1967.
(2) IS EMMA GONZALEZ A POST-HIGH SCHOOL PROFESSIONAL ACTRESS?
Another angle to explore is whether Emma Gonzalez is a student at Marjory Stoneman Douglas High School.
Dan Cromer claims she had graduated from a California high school and from New York University, and is a professional actress and writer.
Does Parkland Emma Gonzalez sound like "Eat Our Feelings" Emma Gonzalez?
To me, not so much.
↓Click image to enlarge↓
To me, the ears are different: actress Emma Gonzalez has longer ear lobes.
What do you think?
Our obligation, always, is to the truth. Skeptics of the official narrative on the Parkland school shooting must be scrupulous in our assertions and counter-evidence. To do otherwise would be self-defeating and give ammunition to our opponents.
See also these other posts on Parkland:
Please follow and like us: