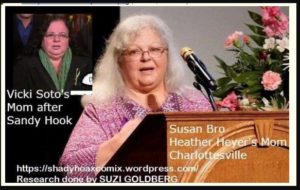 Mona Alexis Pressley: In Solidarity with Alex Jones – Charlottesville Crisis Actor made her Debut in Sandy Hook
Mr. President,
While you correctly condemned racism on display in Charlottesville, you may not know that the whole event was political theater, an orchestrated event with crisis actors, the most conspicuous of whom, Susan Bro, said to be the mother of the woman, Heather Heyer, victim of a mock car crash, debuted as "Donna Soto", the mother of Victoria Soto, a teacher reported to have died at Sandy Hook. There are
multiple videos about her performance
, where Suzi Goldberg created the image shown above. Here is the result of a superposition that leaves no doubt about it: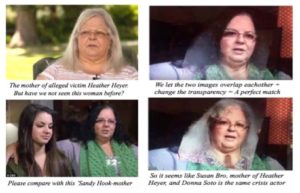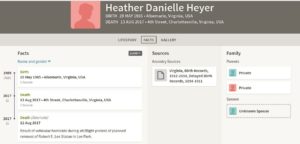 And it turns out that Heather Heyer did not even die in the car crash but from a heart attack the following day. By her purported mother's own admission, Heather died of a heart attack instead of the reported cause of being hit by a car. On her family tree on
ancestry.com
, two different dates appear, one for 12 August, the other 13 August 2017, which is the actual date of death.
We find these reports of phony deaths are ubiquitous in the mainstream media, which more than justifies you calling it out as "fake news" and as "the enemy of the people". Our founding fathers would be dumbfounded by this betrayal of the public.
Very respectfully,
Mona Alexis Pressly
Reference: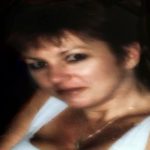 Mona Alexis Pressly
, MA, MFT has frequently appeared on "The Raw Deal" and "The Power Hour". Her research on numerous political issues, including Obama's birth certificate, Sandy Hook and Las Vegas, has been published by Dr. James Fetzer,
PENN Magazine
and many other venues.
See Especially:
See Also:
Please follow and like us: