[Editor's note: This article was originally published in Farsi in Iran https://www.mizanonline.com/fa/news/585480/سردار-سلیمانی-موفقترین-استراتژیست-نظامی-ضد-تروریسم-جهانترور-سردار-سلیمانی-نقض-قوانین-بینالمللی-است.]
The stunning drone attack that killed Major General Qassem Soleimani and senior leaders of the Shia militia in Iraq was not only a violation of international law but of Iraqi sovereignty as well. Perhaps most disturbing, Iraq's PM, Adel Abdul Mahdi, reported that Soleimani was on a diplomatic mission as the guest of Iraq at the behest of President Donald Trump, who used the pretext of receiving a Trump-Pompeo missive to take him out. The world has not seen an act of this degree of betrayal and treachery since Hillary Clinton as then US Secretary of State took out Muammar Gaddafi traveling under a white flag of surrender to a location specified by the DOS and had his convoy viciously attack, savagely killing him and sodomizing him with a bayonet.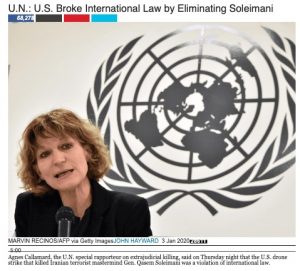 General Soleimani was the most accomplished military strategist in counterterrorism the world has ever seen. In attempting to explain the Quds force to American audiences, I have suggested the rough equivalent of a merge of the US Marine Corps with Army Special Ops. His standing as the second most influential leader of Iran has likewise prompted me to ask how we would feel about the assassination of Gen. Douglas MacArthur or (perhaps even better) Gen. Dwight D. Eisenhower. Circumstances suggest that Trump was encouraged to take this step by Benjamin Netanyahu, where Israel has had a major grudge against Soleimani since Hezbollah defeated the Israeli Army—ranked the world's 4th most powerful–in the 33-day July War in Lebanon.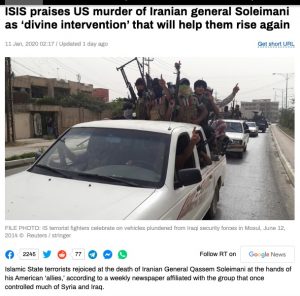 Bibi may have induced Trump to terminate him by offering a parallel with Barack Osama taking out Osama bin Laden. But Osama had died of his medical maladies in 2001 and was buried in an unmarked grave in accordance with Muslim tradition. Obama found it politically irresistible to resurrect him to die again in a staged raid on a compound in Pakistan in 2011, which positioned him for his triumphal reelection in 2012. Osama was actually "our man in Afghanistan" and had been instrumental in getting Stinger missiles into the hands of the mujhaideen, which they used to shoot down Soviet helicopters and planes to drive the Soviets out of the country. While he was already dead, Soleimani was very much alive and responsible for the evisceration of ISIS.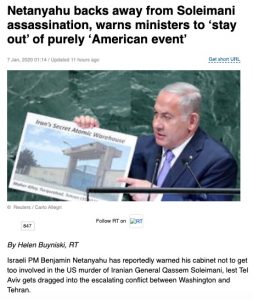 That Trump has taken personal responsibility, which is unprecedented, and that Netanyahu has insisted it was "an American act" and Israel had nothing to do with it reinforces the impression that, while Trump may have pulled the trigger, Israel targeted him. Trump's declaration that he would take out 52 Iranian sites—including religious and cultural centers—was a monstrous proposition, which, had it been carried out, would have qualified him as one of the greatest war criminals in world history. Ironically, the vote by the Iraqi parliament for US forces to leave may also bring about their departure from Syria, fulfilling Trump's campaign pledge to get the US out of these "endless wars in the Middle East" and lead to his own triumphal reelection in 2020.
ADDENDUM:
This new tweet from Haaretz.com confirms Israel targeted Soleimani, without spelling out Bibi's call to Trump: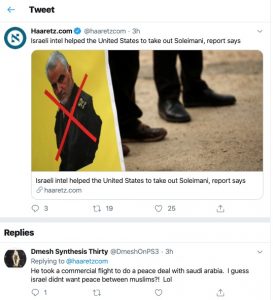 James H. Fetzer, Ph.D., is a former US Marine Corps officer, a retired university professor and the co-founder of moonrockbooks.com. He has frequently been interviewed on Press TV as well as on other networks, including (from time to time) Sputnik News and Russian State Television.
Please follow and like us: