[Editor's note: Lenin observed, "The best way to control the opposition is to lead it". Richard Gage, the founder of Architects and Engineers for 9/11 Truth, was featured on C-SPAN on 1 August 2014. He was unable to explain who was responsible and why, and his answer to how it was done was already known to be hopelessly inadequate. Perhaps that's why he was chosen to appear.]
"9/11 was conceived as an elaborate psychological operation to instill fear into the American people in order to manipulate them into supporting the political agenda of the Bush/Cheney administration"–Jim Fetzer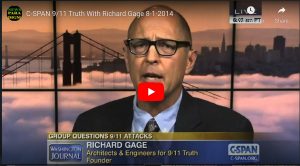 The "big three" questions
(a) what happened on 9/11? 
(b) how was it done?
(c) who was responsible and why?
Why nano-thermite can't cut it
"Explosive Evidence"
How it was done
Barium and Strontium: Neither of these elements should ever appear in building debris in these quantities. The levels never fall below 400ppm for Barium and they never drop below 700ppm for Strontium and reach over 3000ppm for both in the dust sample taken at Broadway and John Streets.

Thorium and Uranium: These elements only exist in radioactive form. Thorium is a radioactive element formed from Uranium by decay. It's very rare and should not be present in building rubble, ever. So once again we have verifiable evidence that a nuclear fission event has taken place.

Lithium: With the presence of lithium we have compelling evidence that this fission pathway of Uranium to Thorium and Helium, with subsequent decay of the Helium into Lithium has taken place.

Lanthanum: Lanthanum is the next element in the disintegration pathway of the element Barium.

Yttrium: The next decay element after Strontium, which further confirms the presence of Barium.

Chromium: The presence of Chromium is one more "tell tale" signature of a nuclear detonation.

Tritium: A very rare element and should not be found at concentrations 55 times normal the basement of WTC-6 no less than 11 days after 9/11, which is another "tell tale" sign of nukes.
 What about Planes/No Planes?
Who was responsible and why?
During The Vancouver Hearings, Susan Lindauer revealed inside information that 9/11 was an "inside job." She served as the liaison between the CIA and Saddam Hussein, who was so eager to avoid war with the U.S. that he offered to purchase 1,000,000 cars per year for the next ten years. If that was not enough, he said, make it the next twenty!  Imagine where the U.S. would be economically if we had only taken up his proposal? Instead, when Susan learned of plans to attack Iraq, she protested vigorously to President Bush. For taking that step, for speaking out about her concerns over the injustice of it all, she was harassed, intimidated, imprisoned and tortured

.
Please follow and like us: