By Susan Bradford
The Gaetz pedophile scandal is a glaring example of why integrity must be restored to America's governing institutions. The Trump Administration was attempting to do just that when its efforts were interrupted by very curious happenings surrounding the 2020 presidential election. As more information comes to light concerning the special interests which propelled Florida Congressman Matt Gaetz's stratospheric rise and fall to disgrace, it increasingly appears that members of Trump's inner circle colluded with each other to protect and enrich themselves at the expense of President Donald Trump, the American people, and the integrity of America's elections. It is clear that national and international policy are not being conducted in the national interest but to generate contracts for the boys.

The Gaetz family won the financial lottery after its patriarch, Don Gaetz, a health care administrator in Jacksonville, Florida, launched VITAS Healthcare. VITAS was originally established as a nonprofit in 1977 by an United Methodist minister, Rev. Hugh Westbrook; and Esther Colliflower, a nurse, after the two attended a Dade County Mental Health Association conference on death and dying.
Once the nonprofit was incorporated into Hospice Care, Inc., national hospice advocates, fundraisers, and representative from state hospitals lobbied to be "acknowledged as part of the healthcare system" for the purposes of funding. Among the lobbyists was hospital administrator Don Gaetz, who helped secure the Florida state legislature's commitment to pass a bill that defined hospice care and enact a hospice licensure law, the first in the nation, and one that opened the door for public funds to be invested into hospice care.
 In 1983, Gaetz and his team of investors founded VITAS Healthcare Corporation. Among the early investors in the group was Galen Partners, a private equity investment firm named after Galen of Pergamon, a Greek physician. whose investment portfolio reports an aggregate market value of over $10-billion.
The Gaetz patriarch reportedly fought tooth and nail for VITAS to receive Medicare coverage after President Ronald Reagan signed a bill into law in 1982 that included a provision for a Medicare hospice benefit. Among the sponsors of the Tax Equity and Fiscal Responsibility Act (TEFRA) was Florida Rep. L.A. (Skip) Bafalis, an investment banker from Greece.
After sponsoring the bill, Bafalis launched an unsuccessful gubernatorial campaign and then settled on lobbying as an advisor for Alcalde and Fay, an Arlington, Virginia-based Government Affairs firm, which ranks among the top 10 most influential lobbying firms in the nation. Noticeably, the amount of lobbying fees the firm was able to generate dramatically deceased under the Trump Administration, the Center for Responsive Politics affirms.
 According to lobbying disclosure forms, Bafalis only registered to represent one client in 2020 – Oviedo, Florida, a city in Seminole County, Florida, which he represents alongside lobbyist Maurice Kurland, who represents Seminole County and many other cities in Florida.
 After President Clinton was elected in 1994, federal funding in Medicare dramatically increased, with VISTAS then representing some 233,000 patients. By 1999 Medicare was expected to run out of money while VITAS churned out more than $250 million in annual revenue.
 In 2004, VITAS was sold to Chemed Corporation for a little over $400 million.
 With his newfound wealth and political savvy, the elder Gaetz launched his political career, as Senator from 2006 to 2016. Ironically, among the committees upon which he served was the Ethics and Elections Committee.
By 2010, his son, Matt Gaetz launched his Congressional Career, representing Florida's first congressional district, drawing upon the wealth his father had acquired through VITAS.
In 2013, the Obama Administration offered hospice care providers a one percent pay raise through its Medicare program, with the stipulation that "failure to meet quality reporting requirements will result in a two percentage point reduction in a market basket update beginning in FY 2014," according to the Center for Medicare and Medicaid Services, which runs the Medicare health insurance programs
That year, the U.S. Department of Justice sued VITAS and its parent company for "billing for ineligible patients and inflated levels of care" from 2002 and 2013. After settling the case, the company continued to expand into nursing homes and hospitals.
By 2020, VITAS had generated a reported $338 million during the first quarter as the largest hospice provider in the nation. Trump's Department of Justice sued VITAS Health Care Corp; its subsidiary, VITAS Hospice Services, LLC; and its parent company, Chemed Corp for allegedly bilking Medicare again for exaggerating the level of care it provided for patients who were not qualified to receive it in the first place. The company settled again.
On March 4, 2020, Vice President Mike Pence, the leader of the coronavirus task force, met Nick Westfall, the CEO of VITAS Healthcare and a board member of the National Hospice and Palliative Care Organization, to discuss how palliative and hospice care providers can help reduce coronavirus infections among vulnerable patients.
According to the complaint failed in California, VITAS instructed its sales staff to override resistance from nursing homes and healthcare facilities so that they could generate new business for hospice care while taking selfies selfies with health-care administrators which were shared with coworkers. "Worse still, sales representatives were instructed to visit multiple facilities in the course of a day, increasing the amount of potential exposure for patients and healthcare workers," the complaint read.
The Wall Street Journal reported that more than 250,000 novel coronavirus infection cases among residents and employees at long-term care facilities and 50,919 deaths were linked to senior home care buildings and more than 40 percent of deaths. Profit-motivated sales teams seeking to exploit the coronavirus for profits did not help matters.
By this time, Congressman Gaetz had weaseled himself into Trump's inner circles, even making a public spectacle at Mar-o-Lago, proposing marriage to Ginger Luckey, the sister of Palmer Luckey who founded the virtual reality company Oculus VR and sold it to Facebook for about $2 billion. The proposal coincided with Gaetz's legal troubles and child trafficking allegations.
Even though Gaetz tried to emulate Trump's style to generate support among the President's base, the parent company of his VITAS reflected weak support for Trump. According to lobbying disclosure forms, in 2016, Chemed Corp raised $12,000 for Hillary Clinton's presidential campaign and nothing for Trump. That same year, the hospice company raised $20,000 for the National Republican Senatorial Committee, over $5,000 for Sen. Ted Cruz, and $4,000 for Marco Rubio.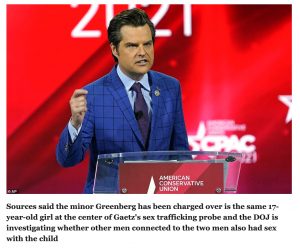 In 2020, the company donated over $70,000 for the National Republican Congressional Committee, over $13,000 for Joe Biden's presidential campaign, and a little under $7,000 for Trump's re-election. As of March 2020, Chemed Corp. reported a market capitalization of over $6 billion.
 After acquiring a reputation for sleaze by starting a game on Capitol Hill in which male leaders could score points for sleeping with female coworkers, Congressman Gaetz stood accused of sex trafficking an underage girl. Gaetz responded to the allegations by going on Tucker Carlson's show on Fox News Channel to claim that he was the victim of an extortion plot.

However, the story was a lot murkier than that. In fact, extortion doesn't even appear to have played a part. As the scandal grew, Gaetz considered retiring from Congress to join Giuliani Andrew, the son of Rudy Giuliani, for a job at Newsmax.
The Extortion Plot
The "extortion plot" involved efforts by David McGee, a former federal prosecutor now employed with the prestigious Beggs & Lane law firm, to enlist the Gaetz family into helping him recover Robert Livington, an intelligence asset, from prison in Iran where he has remained since 2007.
McGee is the attorney for the Levinson family.
According to documents released to the public, Bob Kent, a former Air Force intelligence officer, had attempted to rescue Levinson in 2018, but the federal government somehow obstructed his efforts.
Kent and McGee reached out to the Gaetz family for assistance. By this time, Congressman Gaetz was already under federal investigation for sex trafficking a minor as part of a wider investigation into Joel Greenberg, a Florida tax collector who was indicted in 2020 on charges of sex trafficking a minor and financially supporting an underage girl in exchange for sex. The case had been opened and overseen by Trump's Attorney General, Bill Barr.
 According to the screenshot of a message provided by the Washington Examiner, the father received a proposal for a "plan that can make (his son's) future legal and political problems go away."
 McGee had reached out to the father to help him recover Levinson, stating, "if you and Matt are willing to help us privately and clandestinely obtain the release of Robert Levinson, I will ensure that Matt is on the plane that delivers Levinson to his family, thus making him the most sought after public figure in the world for his efforts to obtain Levinson's release. Then, my partner will see to it that Matt receives a Presidential pardon thus alleviating all his legal issues."
The pardon was to come from newly elected President Biden.
"We all know that politics make strange bedfellows," McGee continued. "I can assure you that we have the ability to obtain Robert Levinson's release immediately, but we cannot allow the U.S. Government to be involved because they have repeatedly blocked his release since his capture. It must be done immediately."
 As part of this effort, McGee had requested that Gaetz provide $25 million to help facilitate the return of Levinson – money that would be returned, TruNews reported.
The father agreed to wear a wire tap for the FBI to expose the plot – that of an agreement to help recover an intelligence asset without involving the federal government, with $25 million assistance to secure his release, in exchange for a pardon and return of the money.
In March, the elder Gaetz provided a document entitled "Project Homecoming," which involved a plan to pay the $25 million. The document included information surrounding "various public corruption and public integrity issues" and criminal allegations surrounding his son, including "compromising pictures" in the possession of the FBI that involved a "sexual orgy with underage prostitutes." The photos were unearthed in a separate, but unrelated public integrity investigation that grew out of an investigation into Joel Greenberg.
 Ambassador Wendy Sherman, a lead negotiation in Iran nuclear talks and Biden's nominee for Deputy Secretary of State, attempted to retrieve Levinson in 2014. Apparently the intelligence assets is of great interest to the FBI. Not only had he worked for the Drug Enforcement Agency and for the FBI but he went missing in Iran while on a clandestine CIA mission. Levinson's family has reportedly received a $2.5 million annuity from the CIA to stop a lawsuit from revealing details of his work in Iran and activities with the agency.
The Iran Connection
Trump had campaigned in 2016 to keep the United States out of war – and this was a campaign promise he kept. As a result, defense contractors, like Leonardo SpA, experienced waning profit margins, and neoconservatives were prevented from realizing their decades long ambitions for regime change in Iran, identifying the country as part of an "axis of evil" they targeted for military strikes.
Leonardo's ally on Capitol Hill was Ballard Partners, a leading Trump fundraisers with key access to Trump's inner circles. For example, Brian Ballard, the firm's founder, worked on the Trump Victory campaign and served on Trump's Presidential Transition Team, a position that allowed him to recommend appointments to the Trump Administration. Not only did Ballard lobby for the Trump Organization, but he raised money for Jeb Bush and Marco Rubio, the firm's preferred presidential candidates, only settling on Trump after this candidate became the presumptive Republican Presidential nominee.
Another Ballard lobbyist who represented Leonardo in 2020, Dan McFaul, served on President-elect Donald J. Trump's Transition Team in 2016, recruiting and vetting potential appointees for the incoming Administration, specifically for the Department of Defense, the Department of Veterans Affairs, the Armed Services, and the Intelligence community. The Trump Administration was essentially packed with appointees who gave taxpayer-subsidized contracts for the boys priority over President Trump's America First agenda. Ballard also employs a former Assistant Secretary of State for Public Affairs in the Clinton Administration; a consultant for a super PAC supporting Biden, a deputy finance director for Hillary Clinton, and a representative for Joe Biden.
Once Trump became President, Ballard opened an office on Capitol Hill and hired Congressman Robert Wexler, a member of Obama's re-election Steering Committee who crafted Obama's Middle East policies to man its Tel Aviv office. Wexler had also crafted Obama's policies toward Israel for the Democratic National Committee. At the same time, Trump's key advisors, including his attorney, Rudy Giuliani and Newt Gingrich, both hard-line neoconservatives, were working behind the scenes to promote regime change in Iran.
 In 2018, Giuliani, as advisor and attorney for Trump, was keynote speaker at a rally for the National Council of Resistance of Iran (NCRI), a group that seeks regime change in Iran. Throughout his speech, Giuliani compared Iranian mullahs to the mafia and thundered for regime change in his usual bombastic way. He also delivered a letter on behalf of a bipartisan coalition of U.S. politicians and officials, including Sen. Joe Lieberman. Gingrich was in attendance.
 A few months before the 2020 presidential election, Wexler was featured in an article entitled "Biden is the most pro-Israel nominee ever." Wexler also penned an article for The Sun Sentinel stating that he supported Obama's deal with Iran to curtail its nuclear program. In contrast, Trump characterized the agreement as "the worst deal ever."
In an article for the Jerusalem Post that was published in August of 2019, Wexler wrote that the United States should "reaffirm our commitment to confront Iranian aggression and include Iran's support for terrorism in future negotiations." In other words, Wexler endorsed the hawkish neoconservative position against Iran.
Before leaving office, President Barack Obama signed the Joint Comprehensive Plan for Action with Iran in 2015 in which a slush fund was set aside for Iran as compensation for international sanctions it had endured over its nuclear development program. Obama had set aside $1.7 billion in Iran that year to help the isolated country recoup losses sustained through international sanctions and gain leverage for the release of four American prisoners. During these discussions Obama failed to retrieve Levinson.
According to Maria Zack from Nations in Act, Obama also arranged to have $400 million, or what amounts to 14 palettes of cash, transferred in different amounts for the purposes of unraveling the Trump Presidency. "We have proof of … the exact travel paths" that were taken to ensure the money reached its destination, she said.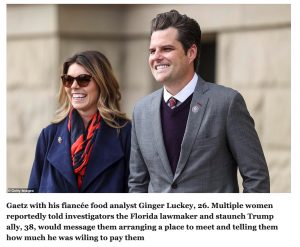 Part of this slush fund was apparently used to help swing the election for Biden in 2020, with votes shifted through a military satellite, she said.
The plan was executed by Stefano Serfaini, a foreign service officer of 20 years; and Claudio Graziano, an Italian Army officer, Chair of the European Union Military Committee, and member of the Board of SpA, an Italian multinational specializing in aerospace, defense, and security.
Headquartered in Rome, Leonardo SpA is partially owned by the Italian government through the Ministry of Economy and Finance, the company's largest shareholder.
Italian intelligence "has provided us with the intercepts, phone calls, and shockingly, pictures of CIA agents involved in orchestrating this," she said.
Once their cover was blown, CIA operatives and government officials in Italy began panicking.
Immediately, they replaced the the heads of the Cyber-readiness program, she said
"The actual person who did the uploading … was arrested for safe keeping," she said.
Upon being caught, the conspirators released a cover story admitting to the hacking, but for the purposes of researching airplanes and their schematics.
Anticipating foreign interference in the 2020 election, President Trump signed an executive order in 2018 that made it illegal for anyone to collude with foreign interests to influence election results.
Turkey serving as the bridge through which refugees have threatened to overwhelm Europe. This country could either expand or curtail the refugee crisis at will. Once refuges reached Europe, they could acquire visa-free movement throughout the European Union, thanks to the Schengen Agreement.
According to the public records, the Turkish government hired Ballard for assistance in helping the executive of a state-run bank, Halkbank by the name of Hakan Atilla, who had sent billions of dollars to Iran in violation of U.S. sanctions. Ballard reportedly continued to represent Atilla up to an indictment in New York.
Among the Ballard lobbyists representing Turkey were Wexler, former Clinton State Department official Jamie Rubin, and Syl Lukis, a managing partner. According to reports, Ballard secured a meeting with Trump for Turkish President Tayyip Erdoğan. Photos also reveal that Turkish Minister of Treasury and Finance Berat Albayrak had attended a meeting with Trump, Treasury Secretary Steven Mnuchin, and Jared Kushner. According to reports, Trump blames Kushner, who was brokering deals all around the world, for his election loss.
Greenberg Traurig, a lobbying firm at the center of the Abramoff scandal, had also registered to lobby the Turkish government, with Giuliani representing Reza Zarrab, a gold trader involved in the Halkbank case at Greenberg Traurig. Giuliani reportedly managed Trump's "shadow diplomacy."
With neoonservatives frustrated with Trump's peaceful, American-first agenda and refusal to bomb Iran, and with the Trump's investigation of pedophiles and public integrity issues turning towards Republicans, powerful GOP players teamed up with the Democrats to drag Biden over the finish line and into the White House, even if they had to lie, cheat, and steal the election. Newsmax would be on hand to shut down debate, even if they had to cut off Lindell mid-rant.
Election Shenanigans
On the night of the election, votes for Trump were allegedly switched to Biden to secure a victory for the senile candidate. According to Nations in Action, Leonardo's IT executives have allegedly appeared before a judge to confirm their role in electronically switching votes from Trump to Biden while American employees at the U.S. Embassy in Rome, including U.S. Ambassador to Italy Lewis Eisenberg, monitored the situation. The money was laundered through the Vatican.
While the election results were being contested, Israeli Prime Minister Bibi Netanyahu, a staunch Trump ally, threw his support behind Biden. Jared Kushner, Trump's neoconservative son-in-law and close Netanyahu family friend, reportedly encouraged Trump to leave Washington once Biden had miraculously prevailed.
Anticipating a Biden Administration, Israel heightened tensions with Iran as neoconservatives beat the drums for regime change in Iran – a confrontation that Trump had doggedly refused to accommodate during his Administration.
Even though attorney Sidney Powell, MyPillow CEO Mike Lindell, Lin Wood, among others alleged election fraud and foreign interference in the election, Trump never executed the Executive Order. He simply resigned to leave the national stage, with patriots encouraged to assemble on Capitol Hill on January 5, 2020 to show their solidarity with Trump and encourage Pence to authenticate the electoral votes for Trump, securing the election for him against all odds.
As patriots convened on Capitol Hill. Giuliani whipped the mob into a frenzy by encouraging them to engage in "trial by combat." Giuliani's friend, a tattooed, face painted shaman actor and Q-Anon supporter, led the charge to storm Congressional chambers, providing an excuse to deplatform Trump and patriots, just as allegations of election fraud were emerging from Italy, to prevent them from sharing information on the matter. City police were even filmed opening the doors to allow the mob to descend upon Congressional chambers as votes were being tallied.
Ballard Partners represented the City of Washington, DC alongside an organization called TheGroup DC, which gave campaign contributions to Kamala Harris –and Maxine Waters who encouraged her supporters to physically attack, harass, and confront conservatives in order to silence and intimidate them, with lobbying disclosure forms documenting what appears to be a "consulting fee" from the City of Washington, DC to Ballard Partners before the riots took place.
In March, the Gaetz pedophile stood to expose the whole sordid underbelly of establishment Republicans and their fellow Democratic bagmen. Within 24 hours, Washington and Tehran miraculously agreed to return to the table to forge the Iran nuclear deal. The talks which will begin in Venice next week, stand to curtail Iran's nuclear enrichment program and lift remaining economic sanctions. Israel was noticeably silent on the matter – not a peep from Netanyahu.
Susan Bradford is an investigative journalist and author of UnMasked:The Coronavirus Story and most recently, Royal Blood Lies.
(c) 2021 Susan Bradford
Please follow and like us: