Jim Fetzer
It has been my privilege to know Robert David Steele for many years now, after we connected over our mutual interest in exposing false flag operations from 9/11 to the Boston Bombing and beyond.  Robert is both a former spy and has actually run a false flag operation for the CIA. He is also, most unusually, a top-non-fiction reviewer with over 2,000 posted reviews across 97 categories of non-fiction. His 90-minute lecture on Top Books is a global cult video.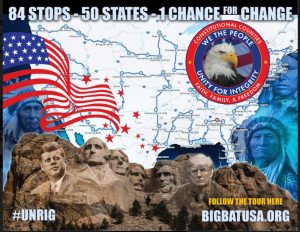 I have followed Robert's efforts with Cynthia McKinney (today Dr. McKinney with a Ph.D. in Leadership and Change) to champion election reform, starting in 2011 when he joined the Occupy election reform working group to 2017 when he and Cynthia traveled across the country in a single RV (shown below), only to have their campaign destroyed by what appear to have been Zionist-organized attacks, including one individual posting ninety defamatory videos and organizing over 400 cyber-stalkers (a federal felony), where he is facing a federal jury trial once COVID madness ends. Their original website, UNRIG.Net, is the top site for substantive information about election fraud and election reform ideas.
I was not expecting Robert to expand from election reform to Satanic Pedophilia, and to then add Wall Street Treason & Crime to his non-profit project agenda. His web site ecology of nine free sites and one subscription site, shown below, are an incredible offering from one man.  How he does it I do not know, but he continues to impress me.
He upped and raised $300K in three weeks to make three movies — #UNRIG Elections directed by Cynthia McKinney; Wall Street Treason & Crime directed by Peter Antico; and Satanic Empire directed by Sean Stone. A fourth movie, The Cult of Lucifer, is free online now.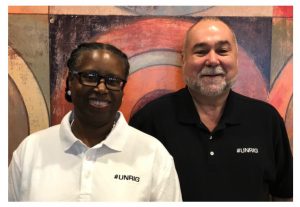 And now he is running a multi-million dollar national tour with six (6) coaches and a gear truck that is confirmed for 84 stops across all 50 states (his team will fly to Alaska and Hawaii) over five months, from 15 May to 6 September.
He's raised $300K in three weeks – a proven pattern – but needs $1.2 million more — $12,000 a night for each of 100+ nights, to pay every bill. I have no doubt he will succeed. I have had the chance to ask Robert a few questions; this is, I believe, an exclusive first report on his plans and intentions as well as the first public description by Robert of the key players who have converged to make this national tour of awakening and unification possible.
Robert, you are starting a tour with zero prior planning in less than six weeks. How is this possible?
Jim, there is nothing more important in life than relationships. I am 68 years old, and since leaving government service in 1993 when the CIA successfully got the USMC to order me to stop my intelligence reform efforts, I have been building relationships with change agents.
No one is more important than Dr. Cynthia McKinney because we are opposites in some interesting ways, and yet we both agree that bringing together the populist right with the populist left and the Libertarians and Independents and others is the ONE THING that can actually Make America Great Again.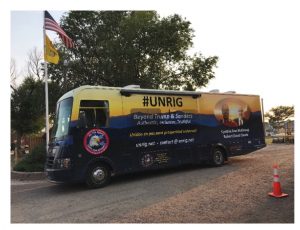 Sacha Stone is a former rocker and humanitarian innovator who is connected to so many thought leaders and indigenous leaders that he is able, in the space of just two weeks, to line up 120 change agents to join our tour, almost all of them US citizens…we have talked about making this a world tour at some point, he can internationalize the talent for that as well.
Sheriff Richard Mack, founder of the Constitutional Sheriffs and Peace Officers Association (CSPOA) has inspired deep respect across the country for his vision of Constitutional Sheriffs that protect their county citizens from federal, state, and local officials who have been bribed, blackmailed, or brainwashed to betray the public trust in favor of the 1%. Because of him we have made Constitutional Counties a core aspect of our tour.
Leigh Dundas is a lawyer and COVID-CDC truth teller – she and another dozen to two dozen truth tellers will be bringing real world facts to the public, face to face, in a way that cannot be censored.
And then we have Trent Loos and Scott McKay, one a truth-telling cowboy and the other a Patriot Streetfighter beloved by freedom fighters who favor motorcycles over horses.
Put simply, Jim, I know everyone that matters in the real world, and they all agree it is time we fire all the politicians and take our country back.
I also believe God is on our side and the Angels have my back.  There is no way I could have done what I have done in the past year and plan to do in the next year without divine intervention.  In my humble opinion.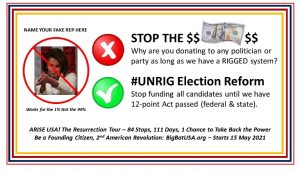 So what is the plan for each stop?
This tour is scripted to the minute. As much as I wish we could accept all the offers we have received of free meals, come meet the family, and so on, this is nothing less than a war caravan championing peace & prosperity for all. This is Jesus come to cleansing our temple – American the Beautiful – of all the shits that call themselves Democrats and Republicans but are in fact the whores of Babylon.
Each day ends at 6 pm when we get on the coaches and drive to our next stop.  I decided on 84 stops in part to try to get everyone into a proper hotel with showers and beds – a single room for each of the 30 people in the permanent party including musicians – most drives are right around 4 hours if not less.
In the mornings we will offer free conferences with three tracks: Cynthia on County PowerCells bringing together Trumpers, Sandernistas, Libertarians, Independents, Greens, and others; Sheriff Mack or his surrogate offering a class on how to demand that all Sheriffs be Constitutional Sheriffs if they want to be re-elected; and Leigh Dundas and me doing something on Truth for Life. Because of space limitations those conferences, while free, will require pre-registration.
After lunch with local leaders – excluding DNC and GOP traitors who have sold us out to the Deep State – we will move to the high school football stadium where the crew will have set up the stage and audio and backdrop and do a three hour show mixing public education with music. Before we arrive there will be an hour long pre-show featuring local leaders – excluding DNC and GOP traitors – and local musicians. For an hour after the show, while the crew breaks down the stage, hopefully with help from volunteers, we will do a fast paced photo line.
My Patriots Network created by Jimmie Schwinn is offering free county forums for citizens to self-organize, and those forums and Cynthia's PowerCells will be cross-pollinated.
Are you at Mount Rushmore for the 4th of July.  Will you be competing with or meeting up with President Donald Trump?
Jim, all I can say about that is that Juan O. Savin (P) wrecked my life by strongly suggesting that I advance my departure date so as to be in Dallas on 29-30 May when Mike Flynn and Sidney Powell are speaking – both are heroes of mine – and at Mount Rushmore on the 4th of July. I am working 16 hour days 7 days a week because I have lost six weeks of planning time.  Now, I can only speculate about whether or not President Trump will be there, but the below cartoon captures my vision for uniting 100% of our citizens to take back the power from the 1% and their DNC and GOP toadies. I would die a happy man if the President and Cynthia re-enacted this cartoon on the 4th of July in front of Mount Rushmore, and be even happier if he offered her the Vice Presidency.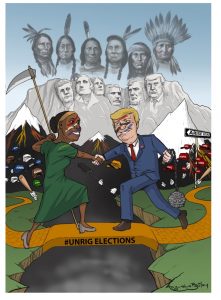 There are a number of subtleties in this cartoon, which can be downloaded and that renders with sufficient detail for FedEx to print it as a poster-sized collectable. I have one that is being framed, this is for me a once in a lifetime snapshot of how to Make America Great Again with one simple handshake.
Note that we have added JFK on the left and DJT on the right of Mount Rushmore for a total of six white guys.  Note that we have added the Native American founding fathers including Sitting Bull and Geronimo in the skies above Mount Rushmore.
Now look at the mountains. Cynthia's mountain is 20% white and the rest is black. President Trump's mountain is 80% white and 20% black. Across all three mountains are streaks of our red, brown, and yellow-skinned American citizens.
And then we have #UNRIG caps that will be available on Amazon by 1 May. Anyone showing up with a #UNRIG cap gets access to the reserved front section. But more importantly, this is not a Trump tour even though it honors President Trump. I want to see Red, Blue, White, Brown, Green, Gold, and Black (undecided) #UNRIG caps and when all is said and done I want to totally close down all funding for all politicians and all political parties until #UNRIG Election Reform Act of 2021 is passed at both the federal and state levels.  Here is a billboard we are encouraging local groups to sponsor on their own, billboards cost between $1,500 and $3,000 a month:
Last question: what is your objective? What spells success for this national tour of yours?
My metric is quite simple.  I want to terminate the DNC and GOP and have a Congress in 2022 that is 1/5th Trumpers, 1/5th Sandernistas, 1/5th Independents, 1/5th Libertarians, and 1/5th others – a Congress that makes evidence-based decisions in the public interest and never again betrays the public trust.
Donate any amount ($100 suggested) at https://bigbatusa.org to join the tour and receive a Founding Citizen of the 2nd American Revolution certificate.  Here is what it looks like: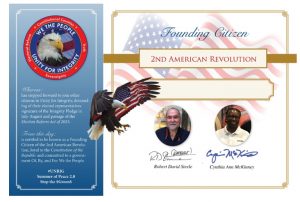 Apart from adding the name in three places at the bottom will be the date which one day will be a point of pride for those  lucky enough to join the tour before it begins, and the county and state (there is also an international version of this certificate, the populist revolution is a global revolution).
Where we go one we go all….and the best, as the President has said, is yet to come. God Bless America – now let's get back in the saddle and join the fight!
https://bigbatusa.org or donate directly https://paypal.me/EarthIntel
Please follow and like us: