Introducing
or Horror on Lake Harriet
or 

…

 Love & Bigfoot in the time of Covid Plague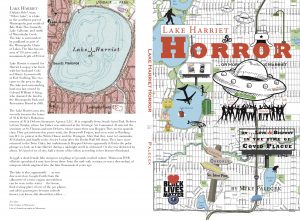 *Review PDFs available upon request.
Lake Harriet [Dakota: Bde Uman, "Other Lake") is. a lake in the southwest part
of Minneapolis, just south of Bde Make Ska [formerly Lake Calhoun] and north of Minnehaha Creek. The lake is surrounded by parkland as part of the Minneapolis Chain of Lakes. The lake has an area of 335 acres and a maximum depth of 85 feet.
Lake Harriet is named for Harriet Lovejoy, who lived with her husband Colonel Henry Leavenworth at Fort Snelling. The two came to the area in 1819. The lake and surrounding land was last owned by Colonel William S. King, who donated the land to the Minneapolis Park and Recreation Board in 1885.
The Lake Harriet area also recently became the home of Al & Delores Rukavina, owners of Al & Delores Insurance Agency, LLC. Al is originally from South Saint Paul. Delores is from Omaha, where her father was stationed at the Strategic Air Command. Al entered the seminary at St. Thomas and met Delores, from St. Catherine's, whose name then was Hopper. They met in spanish class. They got interested in peace work, the Honeywell Project, and went to Washington D.C. to protest at the White House and the Pentagon. After that they journeyed to Guatemala, El Salvador, saved those places, and finally to the Soviet Union after the Berlin Wall fell down. They have since returned to the Twin Cities, but unfortunately Hopper-Delores apparently fell into the polar plunge ice hole on Lake Harriet during a midnight stroll in a blizzard. Or she was abducted by aliens. It's kind of six of one, half a dozen of the other, according to her bereaved husband.
In 1998, a dead female lake sturgeon weighing 105 pounds washed ashore. Minnesota DNR officials speculated it may have been there from the mid-20th century, or was a descendant of sturgeon which migrated into the lake thousands of years ago.
The lake is also, apparently — as was discovered on Google Earth from the silhouette of a twin-engine aircraft that can be seen in the water — the home, final resting place, of one of the 9/11 planes and all its passengers because nobody really knows, you know, shit about that, either …
See also:
List of lakes in Minnesota
List of shared-use paths in Minnesota
(Palecek video presentations)
Freedom of the Press False Flags & Conspiracies Conference 2020
https://www.bitchute.com/video/PBDaf07tMm5K/
Freedom of the Press False Flags & Conspiracies Conference 2021
https://153news.net/watch_video.php?v=WGDSDUSWSM78
Palecek books website
https://mikepalecek.newdream.us
Amazon author's page
https://www.amazon.com/Mike-Palecek/e/B00I9D8V4M%3Fref=dbs_a_mng_rwt_scns_share
Archives for The New American Dream Radio Show
Mike Palecek has worked on newspapers in Minnesota, Iowa, Nebraska and South Dakota. He also produced Penn Magazine, and was a co-founder of Moon Rock Books, along with Jim Fetzer, as well as co-hosting, along with Chuck Gregory, The New American Dream Radio Show. He has written several novels, information about those available here: https://mikepalecek.newdream.us
Recently retired after working for twenty years with the disabled, Palecek also served five terms in jail and prison for protests against U.S. military policy, and was the Iowa Democratic Party 5th District candidate for the U.S. House of Representatives in the 2000 election, receiving 65,500 votes.
Most recent books:
• Covid Schmovid
• And I Suppose
… nobody died when Johnny Carson was buried at sea on the moon, either?
• Das Mein Schmampf!
… the Alien Bigfoot Leprechaun & Ghost Manifesto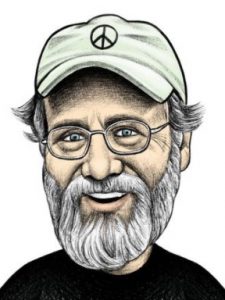 Mike Palecek
Please follow and like us: