PRESCOTT, Ariz.—One rally looked more like a catered banquet event on steroids, the other like a rock concert with all the hoopla of a religious revival meeting.
One thing was sure: former President Donald Trump and his former Vice President Mike Pence were the stars at dueling rallies in the final days before the Arizona primary on Aug. 2.
"I'm a Christian, a conservative, and a Republican—in that order—and I'm here because Arizona—and America—needs Karrin Taylor Robson as the next governor of Arizona," Pence said at an event for Robson held at the Tyr Tactical body armor manufacturer in Peoria, Arizona, on July 22.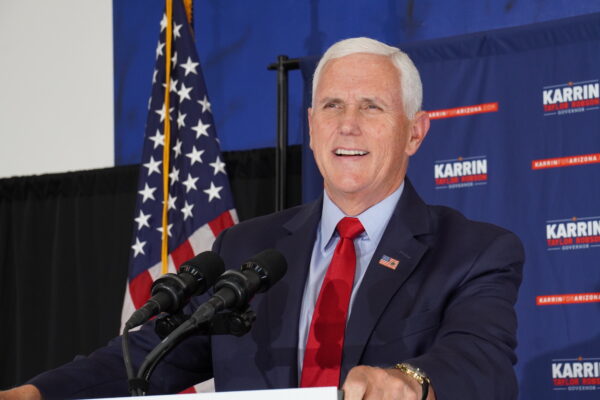 Hundreds of Robson supporters and Arizona Republican notables sat at round tables covered in black linen, dining on pork and beef tacos before the rally got underway under bright media lights.
"There is no question that Karrin Robson is a proven conservative ready to lead our state on day one," said Arizona Gov. Doug Ducey, who leaves office at the end of two terms in January.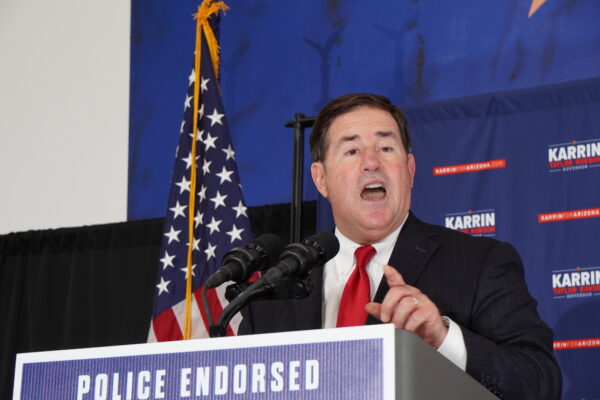 For that reason, he has endorsed Robson for governor, he said.
However, Pence-endorsed Robson currently trails about five percentage points behind front-runner and Trump-endorsed Kari Lake, a former Fox 10 anchor described by Robson as an Obama Democrat turned Republican.
"So what has become too clear to Arizona voters across this state is that Kari Lake discovered God, guns, and the GOP about five minutes before she decided to run for governor," Robson said to laughter.
As someone whose "conservative values run deep," Robson, spouse of billionaire Ed Robson, added, "I don't change political parties like an outfit you take on and off. And I have never traded political beliefs depending on what was trendy."
Less than 108 days before "a great Republican victory," Pence praised Ducey's leadership in the Grand Canyon State as "one of the greatest and most accomplished conservative governors in America."
"I was for Doug Ducey before it was cool. I met him back when he was selling ice cream," Pence said, adding that Robson had "big shoes to fill" as the next governor of Arizona.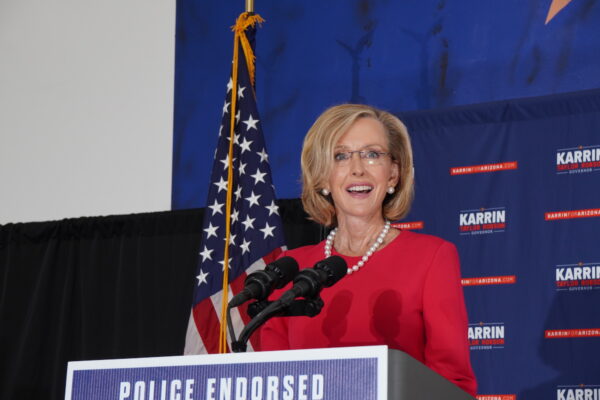 "There is only one candidate in this race ready to lead Arizona on Day One even to greater new heights—and that's Karrin Taylor Robson. She will defend all the God-given liberties enshrined in the Constitution of the United States of America and the great state of Arizona."
"She's going to do all of the things and apply the principles your governor has done, and she's going to do just like we did with Arizona's support for all four years of the Trump/Pence administration," Pence said to rounds of applause.
However, Pence did not mention his former political association with Trump in the context of the 2020 election or the Jan. 6 congressional committee hearings.
'Save America' Rally
About 50 miles north, more than 4,000 Trump supporters filled bleachers at the Finlay Toyota Center for a "Save America" rally featuring America's 45th president in Prescott Valley.
For Donald Adams of East Mesa, it was his third Trump rally in a "single fiscal year."
"[Trump] was the greatest president this country has ever had," Adams told The Epoch Times "As far as I'm concerned, he's still the president."
"That current resident in the White House—that's a joke."
A non-partisan, Adams said he voted for Barack Obama in 2008 before he switched to voting Republican in 2012.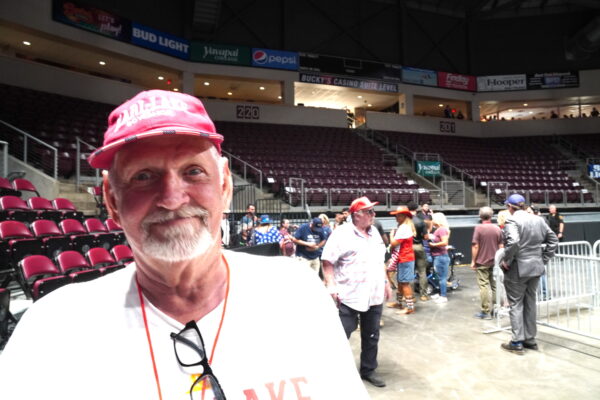 "The second time it was like this—Barack or [Republican] Mitt Romney. I finally went with Mitt Romney, but he's a RINO [Republican In Name Only]."
"I vote for who I think will do the job the best. I voted for Ross Perot because he was a businessman."
"Who cares [if Lake was a Democrat]?," Adams said. "She's already doing election integrity. She wants to fix the border wall without the Feds. The evidence of voter fraud is so prolific that none of them will be able to deny it."
Nate Mess of Surprise, Arizona, said he came to the rally to "support my president."
"I'm here to support many of my local candidates who will make America great again. I'm here because these folks want to keep the border closed. They want to protect education and protect our second amendment.
"They check all boxes—that's why I'm here," Mess told The Epoch Times.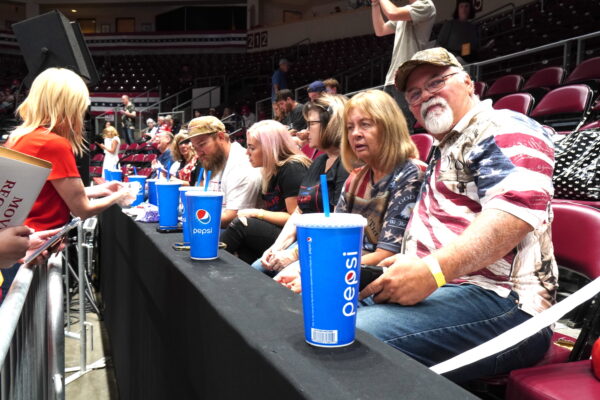 Regarding the smaller rally in Peoria, Mess said, "I'm not surprised they would draw such a crowd after the state [in which] Ducey left our state. Ducey's leadership has gotten us two United States senators who are Democrats, a Democrat secretary of state, a Democrat leader of education, and a Democrat mayor in every major city … Great leadership, Ducey.
"I haven't forgotten how he shut down our state [during COVID-19]. Anybody that Ducey endorses, I'm going the other way."
Shawn Callaway of Surprise said he supports Trump and his 2022 endorsements in Arizona: Kari Lake, U.S. Senate candidate Blake Masters, Arizona Secretary of State candidate Mark Finchem, and Arizona Attorney General candidate Abe Hamadeh.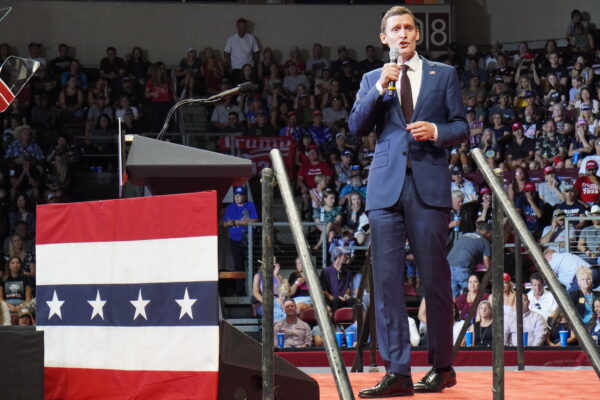 "Donald's awesome," Callaway said, hoping he would announce his candidacy for president in the 2024 election.
"I hope so. We're fighting to make some changes. Not as much as I'd like, but we're making some headway. I like Kari Lake. I am going to vote for Jim Lamon. I think he's more genuine. I like Mark Finchem."
Callaway said he expects an enormous turnout in the Arizona primary and thinks it will be "one of the biggest primaries" in state history.
Gina Lasater of Prescott Valley said she supports Trump because "I think he loves our country."
"I think he loves the Constitution. I think he's all about 'We the People.' I think he's like a father to America," she told The Epoch Times.
Bruce Laughlin of Phoenix, formerly of Chicago, considers Trump "our best president ever."
Concerning Trump's endorsements, "I think he's rock solid on every one," Laughlin told The Epoch Times.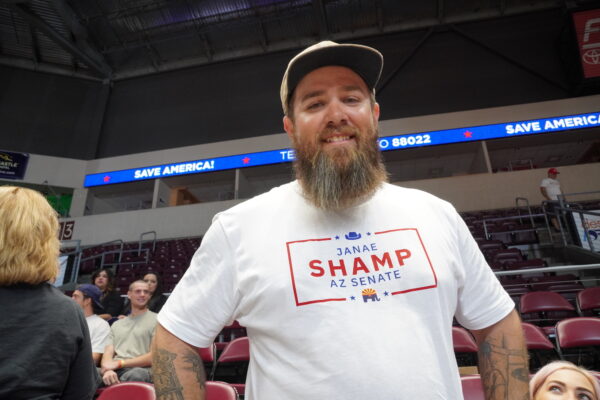 "I think he's learned from his past presidency on who not to pick because he picked a couple of bummers last time. He had a few bad apples, but I think he's learned how to pick the good ones now."
America First Republicans
Before taking the podium onstage, Finchem said he had a "good feeling" during the Republican primary election run-up.
"We've got 11 days to go, and we can't take our foot off the gas," Finchem told The Epoch Times. "We're polling at five points ahead of our closest competitor [Robson]. We've got two in single digits," he said, noting that the Trump endorsement has seen America First Republicans with a 30-points advantage.
"I'm feeling good about it. What disturbs me is we have expended a lot of money on a primary, and now, because of this, we're going to have to start from scratch with the general [election]," Finchem said.
When it was her turn to speak, Lake said to thundering applause, "This is like a lot of MAGA in one room. Wait a minute. Are we MAGA, or are we ultra-MAGA?"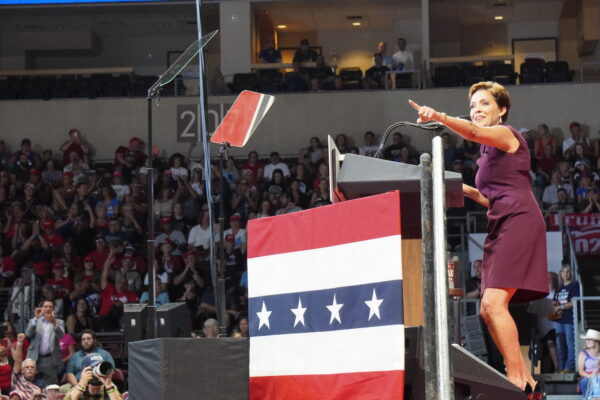 Saying it was the "stupidest thing" when Democrats likened parents to domestic terrorists, Lake said it drove even more voters into the ranks of the American First GOP in Arizona.
"They came after us moms. It drove us straight to the MAGA movement where they care about parents and kids," Lake said. "We've got the city moms, and we've got the rural moms. Because when momma goes MAGA— and it's game over. It is game over for the Swamp Rats."
Lake saved her ire for Arizona's "establishment Republicans" during the 2020 election.
"They sat there and did nothing as our elections were stolen from us. They did nothing when our border was overrun. We will not forget them. They didn't stand up for us."
"You will not be forgotten—and you will never be forgiven," Lake said.
Trump Takes the Stage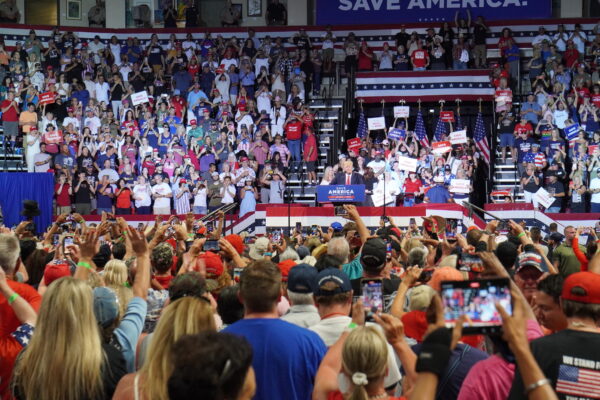 At about 9:10 p.m., Trump took the stage to a standing ovation and words of hope for America First Republicans in the 2022 mid-terms.
"We're going to elect an amazing slate of America First Republicans up and down the ballot. And we are going to end crazy [U.S. House Speaker] Nancy Pelosi's [tenure] once and for all," Trump told the audience.
Trump said he blamed the Biden Administration for the current southern border crisis, skyrocketing gas prices, a faltering economy, and the restrictive legislation contained in the "Green New Deal."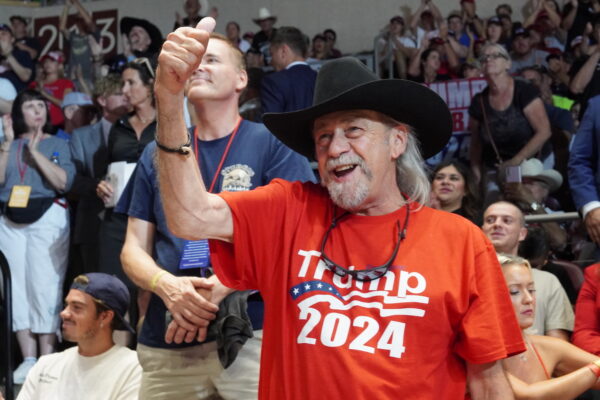 "I don't want people to mention the word 'depression', but where we're going now could be a very bad place," Trump said. "Recession is a nice word—We're going to have a much worse problem than recession, we're going to have a depression."
"Our country is like a different place. It's so sad to see. But first, we have to win a historic victory for the Republican Party this November. When we retake Congress, our highest priorities must be to end the nightmare Joe Biden has created on our southern border.
"And your Gov. Doug Ducey has done absolutely nothing to help. Talk about RINOs. He's all talk and no action—and you'll see what can happen when Kari Lake becomes your governor. It will be like day and night," Trump said.
Please follow and like us: