[Editor's note: These school shootings–including Sandy Hook, Parkland, and Uvalde–are staged as faux terrorism to instill fear into the public (especially parents) to make them more amenable to manipulation in promoting a political agenda, especially gun control. But there are other incentives, including economic.]
A possible outcome from the recurring school shootings, of which Sandy Hook is one, is that schools will likely be retrofitted with new technologies and structures to keep children "safe" from terrorists within technological gulags that bring the experience of air travel to schools, particularly as the shootings just don't stop.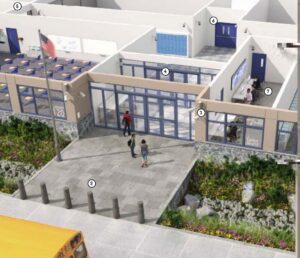 Safer Schools at Fabulous Prices (Click here: Popular Mechanics Guide to Safer Schools)
Just a few months ago, on May 24, 2022 in Uvalde, Texas, Robb Elementary School became the location of another mass shooting after Salvador Ramos, a former student, shot 19 children and two teachers while wounding 16 others. Uvalde became the third-deadliest shooting in the United States, after the Virginia Tech Shooting (2007) and the Sandy Hook Elementary School shooting (2012.)
Virginia is often considered the Petri dish for experimental globalist policies.  Recently, for example, Asra Normani, a contributor to the Wall Street Journal, reported that the Fairfax County School District was forcibly imposing critical race theory on students.
This same school district employed Michele Gay from 1997 to 1999 before this aggrieved mother of a child killed in the Sandy Hook shooting in Newton, Connecticut, co-founded of Safe and Sound Schools to prevent, respond, and recover from school crises.
Gay's organization works exclusively with Kirkland Productions, an "entertainment agency specializing in entertainment, cultural, and educational programs for corporations, government institutions, organizations, colleges and universities across the country."
Kirkland's talent include social justice activists who focus on such issues as women's empowerment, diversity, LGBT, alcohol awareness, and "intersectionality."
From the website, it was not immediately clear where the "Kirkland" in the Kirkland Productions came from. However, Weymouth Kirkland founded Kirkland & Ellis, which has employed many attorneys connected to Jeffrey Epstein, a pedophile who procured children for Royal families, globalists, technocrats, and, at the risk of being redundant, the Rothschilds.
Another Kirkland, the grandfather of the father of Weymouth Kirkland, fought in the Rothschild-funded and stage managed Battle of Waterloo under the Duke of Wellington – a battle that delivered the British Monarchy and the assets of the British Empire to the Rothschilds before the dynasty embarked upon a strategy to place the entire world under its tyrannical control through endless wars, revolutions, and false flag events.
Before dedicating his creative efforts to saving children, Kirkland President Brian Regan worked for Planned Parenthood. His specialty is writing scripts and theatrical productions.
His company, which was born out of the grief of murdered children, sells such custom-designed shirts as "Walken Dead," as seen here: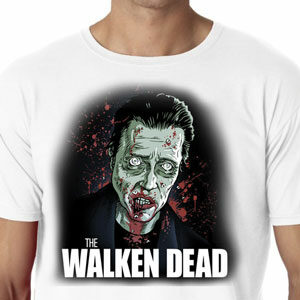 Through Kirkland, activists are provided the opportunity to express their creativity by way of "wax hands," like this one shown on the website, as what better way to offset childhood trauma than making devil horns with one's hands?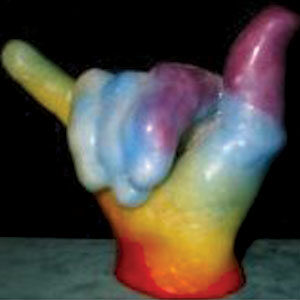 Joining forces with Gay to protect children is Kristan Anderson. After being shot three times during the Virginia Tech shooting on 2007, Anderson was inspired to found Koshka Foundation for Safe Schools, a non-profit dedicated to helping the community and school stakeholders prevent, respond, and recover from school violence.
One of Koshka's Partners is the I Love U Guys Foundation:

Another partner is  Texas State University's Advanced Law Enforcement Rapid Response Training (ALERRT), which has trained over 200,000 state, local, and tribal first responders, and over 140,000 law enforcement officers from all 50 states, the District of Columbia, and the U.S. territories.
Koshka also partners with the Committee for Tactical Emergency Casualty Care, which provides medial treatment for those injured during atypical civilian operational scenarios.  Among the Committee's Board Members is Thomas Labrecque, Jr., the Co-Founder of NextSteps Research, a consulting practice that helps investment professionals and management teams understand and manage competitive trajectories. Labrecque's clients range from Fortune 100 companies to hedge, private equity, and venture funds.
Before founding NextSteps, Labrecque was managing director of a private equity firm, Perseus, which partners with six investment funds and manages roughly $1.3 billion.  Based upon online reports, Perseus is backed by Argos Family Investments.
Managed by Edmond de Rothschild Asset Management, Argos offers "best-in-class family office services to a select few ultra-affluent families" for the express purpose of bringing "breadth and depth of expertise across all the areas that impact wealth … to ensure all of our families achieve their goals."
Another Koshka partner is the National Association for School Resource Offices which offers courses on such topics as "Your Brain on Electronics," to help communities "explore the neurological impact of excessive electronic use of students' developing brains, both in and outside the classroom."
Thanks to Sandy Hook and other catastrophes, classrooms can now be built back better.  As FEMA reported, for example, Oklahoma developed Safe Schools 101 and Oklahoma School Security Institute (OSSI) to "protect students from natural and man-made hazards" in response to "the deaths of the school children caused by the May 20, 2013 tornadoes and the December 14, 2012 Sandy Hook Elementary School Shooting."
Safe Schools 101 "funds structural evaluations and safe room retrofits and installations in schools to protect students from natural disasters" while OSSI provides tip-lines for students to anonymously report their fellow students to authorities if they suspect suspicious activities. The Institute also offers courses on topics ranging from emergency operations planning to active shooter responses that are geared at enhancing security within schools.
Susan Bradford is the author of Royal Blood Lies, Tartar Treachery, and other books on the Rothschilds. You can visit Susan's website at: www.susanbradford.org and buy her a coffee at: https://www.buymeacoffee.com/susanbradford.
(c) 2022 Susan Bradford, All Rights Reserved
Please follow and like us: