Imagine my surprise when I received the Brad Blog for today, discussing Susan Collins decision to vote to confirm Brett Kavanaugh, where Brad was describing this and the Gorsuch seats as "including one blatantly stolen seat and two men accused of sexual misconduct and/or assault". Since I have thought he was a smart guy in the past, I decided to write to him in response to his blog as follows:

My confidence in you has been severely shaken by your indefensible position on the Kavanaugh hearings.

Check out the latest five or six of my blogs at 

jamesfetzer.org 

and come back and reiterate what you say.

You are supposed to stand for something approximating truth, not come across as a minor political hack.
K
I suppose I should not have been overly surprised to receive a caustic response: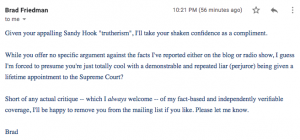 Given your appalling Sandy Hook "trutherism", I'll take your shaken confidence as a compliment.

While you offer no specific argument against the facts I've reported either on the blog or radio show, I guess I'm forced to presume you're just totally cool with a demonstrable and repeated liar (perjuror) being given a lifetime appointment to the Supreme Court?

Short of any actual critique — which I always welcome — of my fact-based and independently verifiable coverage, I'll be happy to remove you from the mailing list if you like. Please let me know.
To which I responded by calling his bluff about Sandy Hook and Kavanaugh both:
You really are an embarrassment. Have you ever actually looked at any of the evidence about Sandy Hook?

The kids were fictions made up out of photographs of older children when they were younger. For example,

It's embarrassing that I used to think you actually had a functioning brain. What a fraud!

Judiciary Committee releases executive summary of supplemental FBI report on Kavanaugh

Senator Susan Collins (R-ME) addresses Senate on Kavanaugh Nomination

Report: Ford's FBI Friend, Monica McLean, Pressured Witness To Modify Testimony and Statement…

Shock Revelations: Ford's Ex-BF Says She Had No Fear of Flying Or Living In Enclosed Spaces, Helped Friend Prep For Polygraph

Christine Blasey-Ford Friend In Delaware Was Career FBI Agent and Likely Together During Accusation Letter Construct…

I challenge you to a public debate about Sandy Hook and the Kavanaugh controversy.

The link is that they fake school shootings to take away our guns and fake allegations

of sexual assaults to deprive us of Supreme Court candidates. So how about it, Brad?

I added a copy of the
SANDY HOOK POTUS MEMORANDA
published on the web site of Robert David Steele, given his apparent ignorance about Sandy Hook: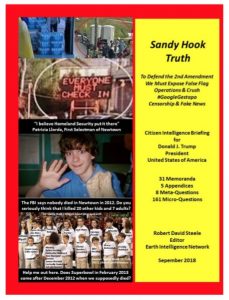 I was fairly dumbfounded by his response, claiming that these images had been "photoshopped", which was conclusive proof that he knows nothing about Sandy Hook, since otherwise he would have recognize the persons and images shown. He also insisted that I was not being responsive to his work, to which I replied:
Did you bother to read any of the five or six blogs I linked? The sexual allegations were fabrications. They had no foundation. Even the supplemental FBI report concluded, "There is no corroboration for the allegations made by Dr. Ford or Ms. Ramirez". Moreover, Blasey Ford appears to have lied about almost everything: fear of flying, no advising on polygraph tests, the second door for security, and more. When I send you the links to articles where this is all laid out in spades, do I have to spoon feed it to you, too?

I am appalled that you are such a shallow thinker that you have been played by allegations that to most of us were transparent fabrications for the purpose of delaying the nomination in the expectation that the Democrats would regain the Senate at the Mid-Terms and kill and future Trump nominees. It appears to me that your ideological blinders are so powerful you are willing to believe any fantastic allegation, up to and including gang rape, as long as it advances your political agenda regardless of evidential support.

The most recent of these blogs suggests that Ford has been used by a small group within the DOJ/FBI to extend the resistance against Trump. But then I suppose you also accept RussiaGate and the additional fantasies that Trump and the Russians were in collusion to promote his election. I wish it weren't so, but I have no doubt that you are also ignorant of

SHATTERED

(2015), which explains that Robbie Mook and John Podesta made up the Russian hacking meme out of whole cloth to protect the candidate's interests.

An even more thorough debunking occurs in

THE RUSSIA HOAX

(2018) by Gregg Jarrett. Have you heard of VIPS (Veteran Intelligence Professionals for Sanity)? I even featured Bill Binney on my show,

"The Raw Deal"

, who confirmed that the data was downloaded at a rate too rapid for distant hacking and was done in the Eastern Time Zone. Just how whacked out are you, Brad Friedman? You appear to be a cheerleader for the loony left, which has lost all contact with reality and rushing off a huge political cliff.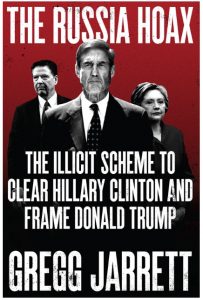 I share this exchange out of despair. Someone widely regarded as being on top of his game, who exerts a certain influence among the progressive crowd, appears to be massively ignorant of the subjects he addresses, including the Kavanaugh hearings, in the first instance, where the allegations of sexual abuse have been show to have no substance or foundation, and then about Sandy Hook, which he deftly deployed as though to impale me upon research that was without merit.
Egad! Even when, in response to his dismissal of my (collaborative) research on Sandy Hook, where there were thirteen contributors to
NOBODY DIED AT SANDY HOOK
(2015), including six current or retired Ph.D. professors (which amazon banned less than a month after its publication), I lay out proof that the kids were fictions made up out of photographs of older children when they were younger, he has to dismiss the proof as "photoshopping" because he can't handle the truth.
We as a nation are in a bad way when those who are taken to be sources of light and illumination turn out to be pseudo-intellectuals, phonies and frauds. I used to think this guy was a responsible source on serious political issues, but he has now convinced me that I was wrong, where he promotes false positions about serious issues and dismisses contrary evidence. He and his fellow Democrats, I suspect, are in for a rude awakening in just a few weeks hence. We shall see.
Jim Fetzer, a former Marine Corps officer, is McKnight Professor Emeritus on the Duluth Campus of the University of Minnesota and co-founded of moonrockbooks.com: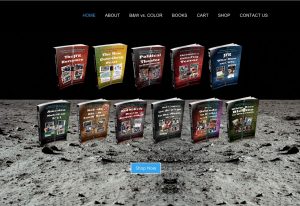 Please follow and like us: