[Editor's note: Democrats are so scared of Marjorie Taylor Greene (R-GA) that they have taken the unprecedented step of stripping her of her committee assignments, the first time the majority party in the House has interfered with the minority party's rights and privileges, which reinforces the point that they are the undemocratic party, better renamed "The Party of Despotism".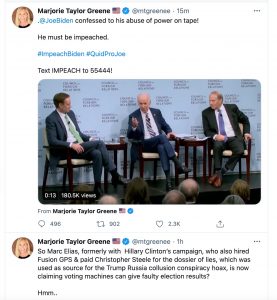 The AP has documented a few of her positions, but not on either Sandy Hook or the Parkland school shootings, no doubt because they are afraid of encouraging the public to take a closer look. Both were staged events where nobody died. For those in doubt, check these out on Sandy Hook and on Parkland. Here I offer additional sources substantiating her take on those they cite.]
WASHINGTON (AP) — Freshman Rep. Marjorie Taylor Greene, a Georgia Republican, has been stripped of her committee assignments by the House Democratic majority over racist remarks, her embrace of conspiracy theories and her past endorsement of violence against leading Democratic officials.
Greene, 46, is a newcomer to politics, and previously worked for her family's construction business in Georgia. She was labeled a "future Republican Star" by former President Donald Trump, whose political style she emulates. The House Democrats took the unusual step on Thursday.
Here's a look at some of Greene's past statements and social media posts, many of which were deleted after the liberal group Media Matters unearthed them online.
Please follow and like us: